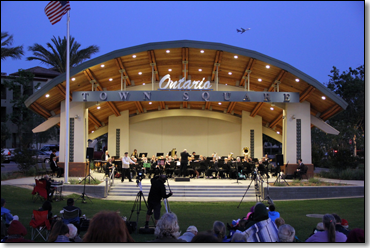 The Show Band's May 14th Concert
Dear Friends and Music Lovers,
The Ontario/Chaffey Community Show Band is proud to present "The Music of Henry Mancini" on Monday May 14th at 7:30 p.m. in Merton Hill Auditorium located at the corner of 5th Street and Euclid Ave on the campus of Chaffey High School in Ontario.  Early birds are invited to come at 7:00 p.m. to enjoy complimentary cookies and Starbucks coffee and listen to the "Woodwind Celebration" in the lobby of the auditorium.  Admission to the concert is FREE.
Henry Mancini was an American composer, conductor and arranger, who is best remembered for his memorable film and television scores.  Often cited as one of the greatest composers in the history of film, he won four Academy Awards, a Golden Globe, and twenty Grammy Awards, plus a posthumous Grammy Lifetime Achievement Award in 1995.  His best known works include the theme to The Pink Panther film series , "Moon River" from Breakfast at Tiffany's, and the theme to the Peter Gunn television series.  The Peter Gunn theme won the first Grammy Award for Album of the Year.
The Show Band will perform a repertoire of his greatest melodies.  Included are "Charade," "Dreamsville," "It Had Better Be Tonight" from The Pink Panther, "Mr. Lucky," "A Shot in the Dark," "Arabesque," "Dear Heart," the Theme from "The Pink Panther," "Baby Elephant Walk," and "Peter Gunn."  Show Band Concertmaster and vocalist Chris McAleer will be featured on "The Days of Wine and Roses" and "Moon River."
Join us for a great night of music and enjoy a hot cup of FREE STARBUCKS COFFEE, and put some green stuff in the Hungry Tuba.  We will also have many of our DVD's available for a small donation.  The concert will be broadcast on local Ontario cable Channel 3.  Check your cable listings for the date and time.  For additional information regarding these performances or the rest of Show Band's upcoming concert season, please check our website at www.showband.net and follow the Show Band on Facebook, Twitter, YouTube, and Instagram.
The community can help support the Ontario Chaffey Community Show Band by becoming a patron of The Friends of the Ontario Chaffey Community Show Band Concert Society for $25.  Become a Bronze Baton donor for $50-$100; Steel Baton $150-$200; Silver Baton $250; Gold Baton $500; Platinum Baton $1,000 and Diamond Baton $2,500.  Individuals or businesses may also become a Show Sponsor for $2,500.  For more information on sponsoring a show, contact director Dr. Gabe Petrocelli at [email protected].  All Donor names will be included on every program and our website for the entire concert season.  Baton and Show Sponsors will also receive complementary DVDs of each performance.  The Friends of the Ontario Chaffey Community Show Band is a registered charity under Internal Revenue Code Section 501 C (3); EIN # 46-1422958.  Checks may be made out to: Friends of the OCCSB, P/O Box 1512, Ontario, CA 91762.
—–
The Ontario Chaffey Community Show Band was founded in 1985 by R. Jack Mercer and is now under the direction of Dr. Gabe Petrocelli with assistant directors David Schaafsma and Pat Arnold.  Band members represent at least two dozen communities throughout Southern California.  Adult and student musicians are invited to participate.  No auditions!  Rehearsals are held on Monday evenings from 7 to 9:00 p.m. at the Chaffey High School Jack Mercer Band Room.  The band performs monthly concerts in the historic Gardiner W. Spring Auditorium and at other venues throughout the community.  All performances are free to the public.
Your Band Director,
Gabe