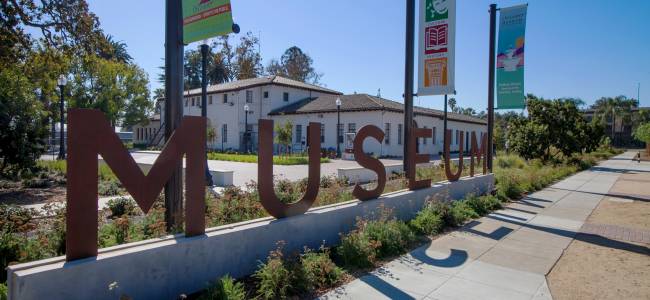 Ontario Museum of History & Art Opens Ninth Biennial Ontario Invitational Art Exhibition
May 17, 2018 through July 15, 2018, the Ontario Museum of History & Art and the Ontario Museum of History & Art, Associates will showcase the Ninth Biennial Ontario Invitational Art Exhibit. The exhibit is a collection of contemporary artwork from the nine regional artists who were selected for awards from the 2017 Ontario Open Art Exhibit. Since 2002, forty-four artists have been awarded the opportunity to show their work in the annual invitational exhibit.
The 2018 Ontario Invitational artists were selected by Juror Danielle Giudici Wallis, who serves as Program Specialist for the Arts Connection, the Arts Council of San Bernardino County, selected the winners from a pool of 80 artists who submitted a body of work.
This year's artists are from the cities of Ontario, Montclair, Upland, San Bernardino, Victorville and Pomona. The First, Second and Third place award winning artists are: Luis Rodriguez, John Egan, and Tom Cypert. The Honorable Mention artists include: Andrea Benitez, Laurence Merrill-Dilman, Jerry Weems and City Council Liaison winner, Frank Carrillo. Additional awarded artists who will be displaying work include Chris Kueng for Mayor pro Tem recognition and Frank Carrillo for Touch of Heart recognition.
Each artist brings a unique array of artwork to the exhibition in a variety of media including oil painting, mixed media, paper mache, pencil, photography and ceramic. Andrea Benitez will take you on a journey of food with both two dimensional and three-dimensional artwork. Frank Carrillo presents both paper mache sculptures and piñata art. Laurence Merrill-Dilman's mixture of sculptures, pottery and paintings touch on various subject matters. Tom Cypert steps away from his usual subjects and presents a series of photos that will have the viewer mesmerized.
One of the exhibitors, Aaron Duncan, a student at the ARC School of Hope in San Bernardino, has a focus on inclusivity with art. The mission of ARC is to promote and protect the human rights of people with intellectual and developmental disabilities and actively support their full inclusion and participation in the community throughout their lifetimes.
Some of the artists will show art that comes from everyday subjects and materials. John Egan creates art from lost and found items: the end results are fun and imaginative pieces. Chris Kueng's artistic take on a local historic icon is whimsical and entertaining. Luis Rodriguez's oil paintings capture people and the area around them in their precise natural form. Jerry Weems' captivating oil paintings are presented on canvas and palm fronds.
Each artist presents works of art that will captivate and inspire museum visitors.
Special Events that will be held in conjunction with the exhibition:
Ninth Biennial Ontario Invitational Art Exhibit Reception and Recognition
Saturday, May 19, 2018 (1 PM – 3 PM)
Meet the exhibit artists and participate in a hands-on art workshop. Light refreshments and hors d'oeuvres will be served. Remarks and Recognition will be at 1:30 PM. Admission is Free. Reservations are Required. Call the Museum at (909) 395-2510 for additional information. 
About the Ontario Museum of History & Art
The Ontario Museum of History & Art is located at 225 S. Euclid Avenue, Ontario, California 91762. Gallery hours are Noon to 4 PM, Thursday through Sunday. Admission is free. For more information call (909) 395-2510, email at [email protected], or visit www.ontarioca.gov/museum. The Ontario Museum of History & Art is a public-private museum operated by the City of Ontario with support from the non-profit Ontario Museum of History & Art, Associates
About the City of Ontario
The City of Ontario is Leading the Way in creating urban lifestyle districts that create sustainable places to live, work and play. Located just 35 miles east of downtown Los Angeles, the City of Ontario is ideally situated as Southern California's gateway. With three major interstates, two railroads and the Ontario International Airport, Ontario offers direct access from Los Angeles to the rest of California, and to North America. With approximately 170,000 residents and residential development on the rise, Ontario looks to double its population in the next 20 years, making it one of the 100 most populated Cities in the nation. Complementing its business and residential core, Ontario dazzles with its amenities such as the Ontario Convention Center, Citizens Business Bank Arena, and the Ontario Mills Mall. To learn more about the City of Ontario, visit www.ontarioca.gov or call (909) 395-2000.
# # #