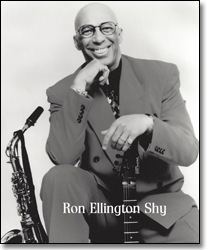 The Show Band's April 16th Concert
The Ontario Chaffey Community Show Band is proud to present "Doo-Wop Spectacular II" on Monday April 16th at 7:30 p.m. at the Bandshell in the beautiful Ontario Town Square, located one block East of Euclid Ave. at the corner of "B" Street and Lemon Ave. in downtown Ontario.  Please note that this is a change of venue from prior publications.  Early birds are invited to come at 7:00 p.m. to enjoy complimentary cookies and Starbucks coffee.  Admission to the concert is FREE to the public.
The concert repertoire will feature an array of hit songs from the Doo-Wop era.  The Show Band is proud to feature special guest artist Ron Ellington Shy, nephew of the great musical legend Duke Ellington.  Ron has been involved in a lifetime of entertainment.  His versatility as an artist is well recognized in the industry.  He performed with both the "Drifters" and "Coasters" and was a founding member of "Don and Dewey."  Also, as an actor, Ron appeared on "Dallas" in 1978 and "Heart Beat" in 1985.  He has extensive experience in the recording industry and has a wall full of Gold Records as a testament.  Ron was a product of the Doo-Wop era and enjoyed a great deal of popularity nationally and later in Europe.  He will be performing an entire musical set with personal hits that include "Hookin' It Up," "I'm Leaving It All Up To You/The Letter," "Any Port In the Storm," and "Don't You Know."  In addition, he will be singing three well-known hits "Let It Be Me," "Ruby," and "L.O.V.E."
Long-time Show Band friend Jim Bonner returns to the Show Band Stage and will sing two songs popularized during the Doo-Wop Era, "Happy Happy Birthday Baby," and "The Book of Love."  Concertmaster Chris McAleer is featured on "Good Night Sweetheart" and "Since I Fell For You" and the outstanding musicians of the Show Band will be featured on the memorable Doo-Wop hits "Come Go With Me," "Silhouettes," and "This Magic Moment."
Join us for a great night of music and enjoy a hot cup of FREE STARBUCKS COFFEE, and put some green stuff in the Hungry Tuba.  We will also have many of our DVD's available for a small donation.  The concert will be broadcast on local Ontario cable Channel 3.  Check your cable listings for the date and time.  For additional information regarding these performances or the rest of Show Band's upcoming concert season, please check our website at www.showband.net and follow the Show Band on Facebook, Twitter, YouTube, and Instagram.
The community can help support the Ontario Chaffey Community Show Band by becoming a patron of The Friends of the Ontario Chaffey Community Show Band Concert Society for $25.  Become a Bronze Baton donor for $50-$100; Steel Baton $150-$200; Silver Baton $250; Gold Baton $500; Platinum Baton $1,000 and Diamond Baton $2,500.  Individuals or businesses may also become a Show Sponsor for $2,500.  For more information on sponsoring a show, contact director Dr. Gabe Petrocelli at [email protected].  All Donor names will be included on every program and our website for the entire concert season.  Baton and Show Sponsors will also receive complementary DVDs of each performance.  The Friends of the Ontario Chaffey Community Show Band is a registered charity under Internal Revenue Code Section 501 C (3); EIN # 46-1422958.  Checks may be made out to: Friends of the OCCSB, P/O Box 1512, Ontario, CA 91762.