Event Schedule
Main Stage

11:15 AM – Cultural Dance Performance
12:00 PM – Senryu Taiko Drummers
12:30 PM – Mariachi Los Martinillos
2:00 PM – Southland Symphony Orchestra performing Pictures at an Exhibition by Modest Mussorgsky
3:20 PM – Masters of Harmony
4:30 PM – Tropicaleiza Brazilian Dance & Drumming
Storytelling Area
12:00 PM – Angela Lloyd
12:45 PM – Glenn Grant
1:00 PM – John St. Clair
1:30 PM – Barbara Rugeley
2:00 PM – Angela Lloyd
2:45 PM – Glenn Grant
3:00 PM – Adrien Lowery
3:30 PM – Nick Smith
Nugent's Park – Historic Building Walking Tour
12:00 PM – By Ontario Heritage
2:00 PM – By Ontario Heritage
5:00 PM – By Ontario Heritage
Art Classes
12:30 PM – 1:30 PM – Oil Painting Workshop by Nancy Kasten
2:30 PM – 3:30 PM – Ceramics Workshop by JoAnne Campanella
4:30 PM – 5:30 PM – Copper Enameling Workshop by Jim Godbey
Jazz Stage
5:00 PM – 7:00 PM – Ontario/Chaffey Community Show Band Jazz Combo
Event Map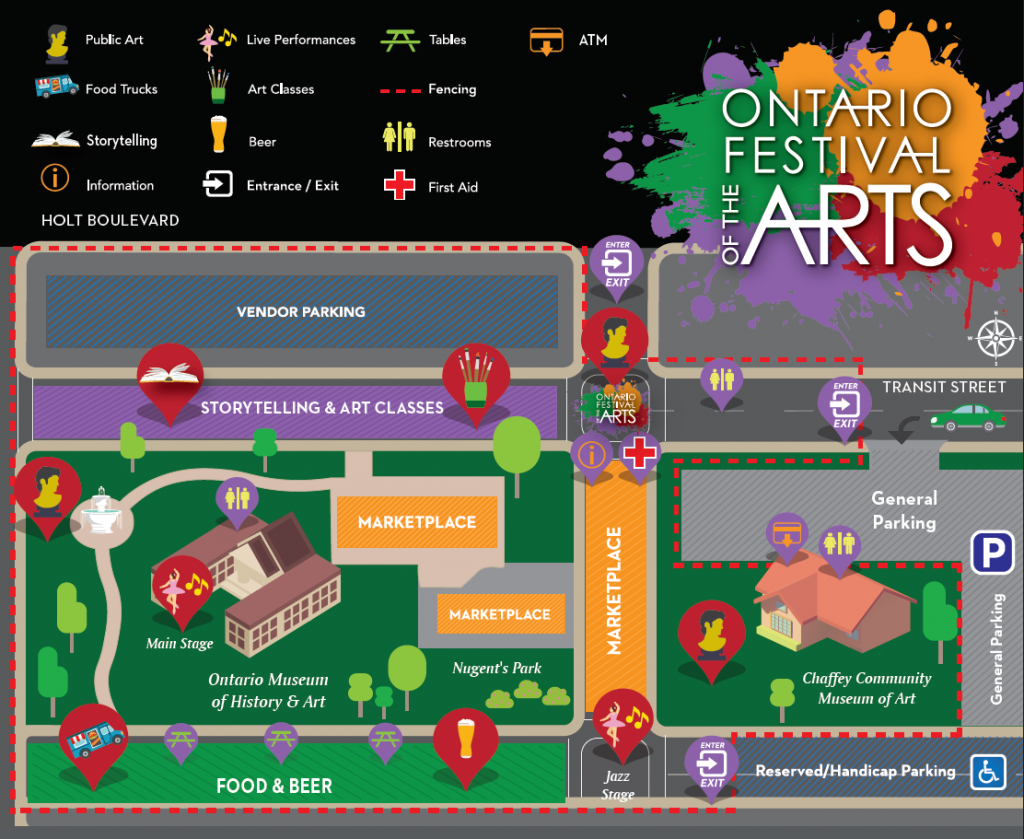 Ontario Museum of History & Art
Día de los Muertos: Eternal Roots
Thursday, October 3 to Sunday, November 10, 2019
Día de los Muertos (Day of the Dead) emphasizes remembrance of past lives and a celebration of the continuity of life. It is a tradition with roots to Mexico's oldest civilizations. Explore Día de los Muertos through the artwork of local artists at our annual exhibit showcasing contemporary work in painting, sculpture, mixed media, photography, ofrendas (altars), and the participants from the city-wide ornament contest! Free Admission.
The exhibit is supported by the non-profit Ontario Museum of History & Art, Associates, the Friends of Ontario City Library, and the City of Ontario's Community Life & Culture Agency.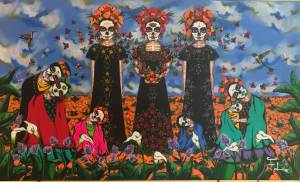 Familia (detail), 2018, David Flores.
Chaffey Community Museum of Art
Line Gallery
California Style
From the mid-1920s to the mid-1950s, the California Style of watercolor painting flourished in this area, giving the traditional watercolor medium a bold new look using strong, rich colors. Subject matter is representational, depicting scenes and activities of everyday life in Southern California's cities, industrial sites, beaches, harbors and open landscapes. Paintings are from CCMA's collection, said to be one of the best in the region.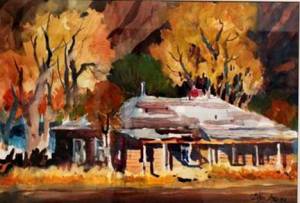 Main Gallery
Inaugural West End Photography Open (WEPO)
A juried exhibition of photographs submitted by artists throughout the inland region. The exhibit is a venue for those who use photography to inspire viewers with their artistic vision.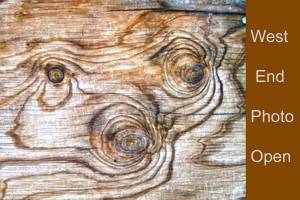 South Gallery
Thumbnails-Mid-Valley Arts League
This exhibit of smaller format works of art offers the opportunity for the viewer to explore content and creativity on a small scale. The paintings were created by artists for their personal enjoyment.
Spotlight Gallery
Imagination in Clay- Richard Perré, artist
From the artist: "As long as I can remember, I liked working with my hands. The joy and challenge of making the clay my own was, and is, fun."