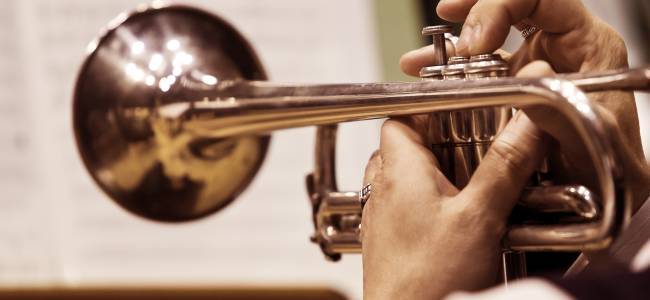 Saturday, February 2, 2019
The Show Band's February 11 Concert
The Ontario Chaffey Community Show Band and the Boling Family are proud to present "That's Amore" on Monday, February 11, 2019 in Merton Hill Auditorium, located on the campus of Chaffey High School, on the corner of N. Euclid Ave. and Fifth Street in Ontario.  Early concert goers are invited to come at 7:00 p.m. to hear "The Woodwind Celebration," an ensemble of musicians from the Show Band.  Complimentary cookies and Starbucks coffee will be served in the lobby.  The concert begins at 7:30 p.m.and is FREE to the public.
The program will include a collection of love songs in celebration of Valentine's Day. Featured solo artists include vocalists Jim Bonner, Chris McAleer, Isaac Gonzalez,instrumental soloists Trumpeter Larry Cariato, Tenor Saxophonist/Assistant Director Pat Arnold and the outstanding musicians of the Ontario Chaffey Community Show Band.
The concert repertoire is highlighted by beautiful melodies that will be familiar to most concert goers and serve as a prelude to the upcoming day of love. Special guest vocalist Jim Bonner will sing Nat King Cole's timeless love song "Unforgettable," "Love Is a Work Of Art," and the exciting "Love Potion #9." Vocalist Isaac Gonzalez will sing three famous Italian love songs; "Al Di La," "Ciao Ciao Bambina," and "Volare." Concertmaster/Vocalist Chris McAleer will sing "It's Almost Like Being In Love" and the haunting melody "When I Fall In Love." Show Band Trumpeter Larry Cariato will be featured on a Mercer Family favorite "You Made Me Love You" and Assistant Director Pat Arnold will perform a tenor saxophone solo on "Love Dance." In addition, the Show Band will be featured in "That's Amore," "Carmen" by Mexican composer and violinist Juventino Rosas, The Theme from"Love Story," "Alfie"/"The Look of Love" Medley, and the beautiful French ballad "Le Vie En Rose." The performance will be narrated by Chaffey Adult School Principal Todd Haag and his lovely wife Debbie Haag.
Join us for a great night of music while having a hot cup of FREE STARBUCKS COFFEE, and put some green stuff in the Hungry Tuba. We will also have many of our DVD's available for a small donation. This concert will be broadcast on local Ontario cable Channel 3. Check your cable listings for the date and time. For additional information regarding these performances or the rest of Show Band's upcoming concert season, please check our website at www.showband.net and follow the Show Band on Facebook, Twitter, YouTube, and Instagram.
The community can help support the Ontario Chaffey Community Show Band by becoming a patron of The Friends of the Ontario Chaffey Community Show Band Concert Society for $25. Become a Bronze Baton donor for $50-$100; Steel Baton $150-$200; Silver Baton $250; Gold Baton $500; Platinum Baton $1,000 and Diamond Baton $2,500. Individuals or businesses may also become a Show Sponsor for $2,500. For more information on sponsoring a show, contact director Dr. Gabe Petrocelli at[email protected]. All Donor names will be included on every program and our website for the entire concert season. Baton and Show Sponsors will also receive complementary DVDs of each performance. The Friends of the Ontario Chaffey Community Show Band is a registered charity under Internal Revenue Code Section 501 C (3); EIN # 46-1422958. Checks may be made out to: Friends of the OCCSB, P/O Box 1512, Ontario, CA 91762.
—–
The Ontario Chaffey Community Show Band was founded in 1985 by R. Jack Mercer and is now under the direction of Dr. Gabe Petrocelli with assistant directors David Schaafsma and Pat Arnold. Band members represent at least two dozen communities throughout Southern California. Adult and student musicians are invited to participate. No auditions! Rehearsals are held on Monday evenings from 7 to 9:00 p.m. at the Chaffey High School Jack Mercer Band Room. The band performs monthly concerts in the Merton Hill Auditorium and at other venues throughout the community. All performances are free to the public.
Your Band Director,
Gabe