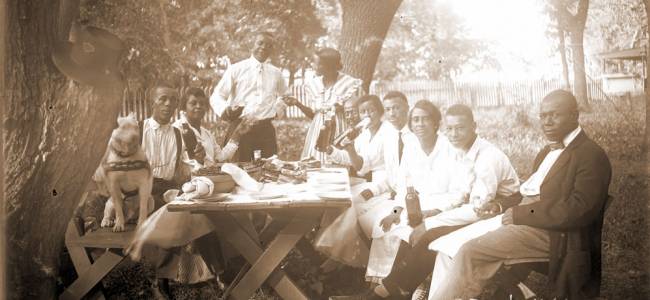 Special African American Exhibits to Open January 31
Two special exhibits detailing the African American experience will be offered beginning Jan. 31 in recognition of African American History Month at the Ontario Museum of History & Art.
Black and White in Black and White: Images of Dignity, Hope and Diversity in America is an exhibit of photographs discovered many years ago at a yard sale detailing portraits of African Americans in Lincoln, Nebraska. It will run through March 10.
The images, attributed to African American photographer John Johnson, show scenes from his neighborhood taken between 1910 and 1925. The photos show blacks, whites and other racial groups together, a rare occurrence in those times.
The exhibit is curated by Douglas Keister, who as a 16-year-old discovered the 280 glass plate negatives at a yard sale in 1965. The exhibit is organized by Exhibit Envoy and is presented with support from Chico State University.
Also on Jan. 31 will be the opening of Danny Lyon: Memories of the Southern Civil Rights Movement, which runs through March 17.
The exhibit shows images by Lyon, a Brooklyn native who served as staff photographer for the Student Nonviolent Coordinating Committee from 1963 to 1964.
SNCC was a group of college students who were activists in the Civil Rights Movement. Lyon traveled the South and Mid-Atlantic regions shooting photos of Civil Rights activities in the South and Mid-Atlantic regions.
These photos have been published in The Movement, about the civil rights battles, and his own memoir, Memories of the Southern Civil Rights Movement.
The exhibit is organized by art2art Circulating Exhibitions.
In anticipation of the Lyon exhibit opening, the museum will hold a Book Chat on Jan. 20 from 2 to 4 p.m. discussing Lyon's memoir. It will be conducted by Sheila Marchbanks.
There is no admission for the exhibits or the Book Chat. The museum is at 225 S. Euclid Avenue, Ontario. Museum hours are noon to 4 PM, Thursday through Sunday. For more information please contact (909) 395-2510.