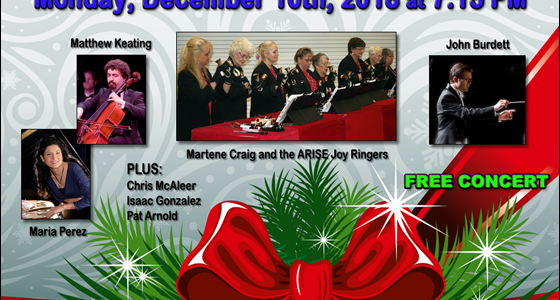 Wednesday, November 28, 2018
The Show Band's December 10th Christmas Concert
The Ontario Chaffey Community Show Band and the Ortiz Family are proud to present "The Wonder of the Holidays" on Monday, December 10, 2018 in the main ballroom at the Ontario Convention Center located at 2000 E. Convention Center Drive in Ontario.  Early concert goers are invited to come at 6:45 p.m. to hear "The Woodwind Celebration," an ensemble of musicians from the Show Band.  Complimentary cookies and coffee will be served in the lobby of the main ballroom.  A pre-concert of Christmas music featuring the ARISE Joy Ringers bell choir will begin at 7:15 p.m.  The concert begins at 7:30 p.m. and is FREE to the public.
The program will include a number familiar holiday melodies and feature a cast of fantastic guest artists that include the ARISE Joy Ringers under the direction of Martene Craig, solo violoncellist Matthew Keating, and accompanist-concert pianist Maria Perez, Show Band members Chris McAleer, Isaac Gonzalez, Pat Arnold, and the outstanding musicians of the Ontario Chaffey Community Show Band.  The guest conductor is Dr. John Burdett, Director of Bands and Instrumental Studies at Azusa Pacific University.  The performance will be narrated by Ontario City Councilman Alan Wapner and newspaper columnist David Allen.  In addition, there will be a jolly visitor from the North Pole stopping by for a brief visit.
The concert repertoire includes a number of Christmas carols performed by the combined ARISE Joy Ringers and the Show Band that include "We Three Kings," "March of the Toy Soldiers," and "Carol of the Bells."  Show Band Assistant Director Pat Arnold will perform a flute solo on "It Came Upon a Midnight Clear."  Cellist Matt Keating will be featured on the timeless holiday favorite "Ave Maria" as well a new work composed for him by Gabe Petrocelli entitled "Holiday Rhapsody."  He will be accompanied by the Show Band and concert pianist Maria Perez.  Chris McAleer and Isaac Gonzalez are featured vocalists on a medley of Italian Christmas carols entitled "Tu Scendi Dalle Stelle" and "Gesu Bambino."  Chris McAleer will also sing the ever popular "White Christmas."  The Show Band will be under the direction of Dr. Burdett for a number of selections that include Leroy Anderson's "Sleigh Ride" and a special of arrangement of "What Child is This."
Join us for a special night of holiday music while having a hot cup of FREE COFFEE, and put some green stuff in the Hungry Tuba.  We will also have many of our DVD's available for a small donation.  This concert will be broadcast on local Ontario cable Channel 3.  Check your cable listings for the date and time.  For additional information regarding these performances or the rest of Show Band's upcoming concert season, please check our website at www.showband.net and follow the Show Band on Facebook, Twitter, YouTube, and Instagram.
The community can help support the Ontario Chaffey Community Show Band by becoming a patron of The Friends of the Ontario Chaffey Community Show Band Concert Society for $25.  Become a Bronze Baton donor for $50-$100; Steel Baton $150-$200; Silver Baton $250; Gold Baton $500; Platinum Baton $1,000 and Diamond Baton $2,500.  Individuals or businesses may also become a Show Sponsor for $2,500.  For more information on sponsoring a show, contact director Dr. Gabe Petrocelli at [email protected].  All Donor names will be included on every program and our website for the entire concert season.  Baton and Show Sponsors will also receive complementary DVDs of each performance.  The Friends of the Ontario Chaffey Community Show Band is a registered charity under Internal Revenue Code Section 501 C (3); EIN # 46-1422958.  Checks may be made out to: Friends of the OCCSB, P/O Box 1512, Ontario, CA 91762.