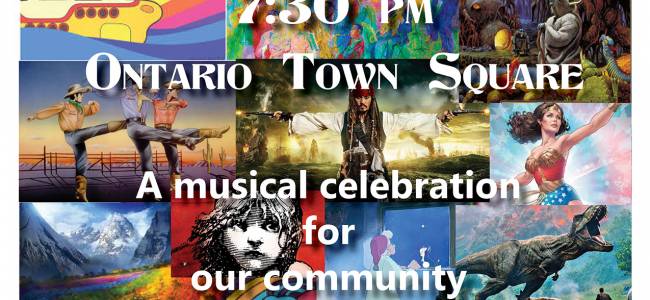 Southland Symphony at Ontario Town Square
The Southland Symphony Orchestra presents "Kaleidoscope" – A free community concert at Ontario's Town Square Amphitheater Sunday June 10th, 2018 at 7:30 pm
ONTARIO, Calif. — The Southland Symphony Orchestra is presenting another FREE concert!
What: Southland Symphony "Kaleidoscope" Concert
Who Southland Symphony Orchestra
When: Sunday June 10th, 2018 at 7:30pm
Where: Ontario Town Square Amphitheater 224 N Euclid Ave Ontario CA 91762
Come celebrate Our Community at SSO's "Kaleidoscope" Concert – Sunday June 10th, 2017 at 7:30 pm. It's FREE for the whole family at Ontario's Town Square Amphitheater!
(224 N Euclid Ave Ontario CA 91762)
Enjoy music of the Big Bands, The Best of the Beatles, and music from your favorite films – including Wonder Woman, Jurassic Park, Pirates of the Caribbean, Star Wars, Pinocchio, Les Mis and more. The orchestra will also be performing favorite American Classics like "Hoedown" from Rodeo ("Beef – it's what's for Dinner!"), The Stars and Stripes Forever, The Star-Spangled Banner, and Dr. Mann's popular "Heritage Suite" – a collection of folk songs from all around the world – celebrating our diverse community! and much more….
Vocal soloists Coril Prochnow and Abrenda Davis will be joining the orchestra for this event. Both are well known musical artists, with wide ranging repertoire. They are principal singers with the Repertory Opera Company, the Southland Symphony Orchestra Chorus, and the Los Angeles Camerata, among others.
Discover YOUR Orchestra – Ontario's Southland Symphony, soloists, and enjoy a chance to sing along! Bring your picnic blanket and cushions – plan to be comfy and have a great time!
About the Southland Symphony Orchestra:
The Southland Symphony is a non-profit organization and needs your support to continue presenting these world-class quality concerts!
The Southland Symphony presented its first concert in Ontario on Sunday, December 11, 2011. The orchestra's founder and director, Dr. Sylvia Lee Mann says of the orchestra, " Our purpose is to enrich our community by engaging audiences and inspiring a love of music through exciting live symphony performances, innovative programming, and educational outreach."  We offer opportunities for the community to experience the very best in music, "right in their own back-yards."
No long drives to downtown Los Angeles, no expensive parking. Arts and music for our community, in our community.
The Southland Symphony Orchestra is a community orchestra, providing fantastic opportunities for qualified musicians to experience and perform live music of the highest quality. We welcome musicians of all ages and from all walks of life: Students and senior citizens, professionals and amateurs: Hobbyist, Professional, Retired. All are welcome. Interested musicians should contact us immediately for an audition. Call (909)235-9776 or email: [email protected]
For even more information, and to support the symphony by making a donation of any size, please visit the symphony website: http://southlandsymphony.com
Contact
Dr. Sylvia Lee Mann  [email protected]  909-235-9776