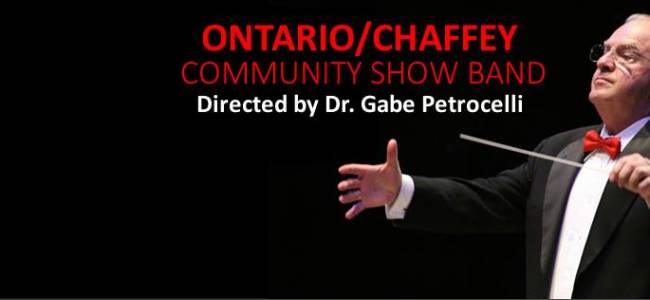 The Show Band's June 18th Concert
The Ontario/Chaffey Community Show Band is proud to present "Hollywood Hits" on Monday June 18th at 7:30 p.m. in Merton Hill Auditorium located at the corner of 5th Street and Euclid Ave on the campus of Chaffey High School in Ontario.  Early birds are invited to come at 7:00 p.m. to enjoy complimentary cookies and Starbucks coffee and listen to the "Woodwind Celebration" in the lobby of the auditorium.  Admission to the concert is FREE.
The concert repertoire will include melodies from of some of Hollywood's most memorable films.  The performance features vocalist Brian Detwiler, a familiar solo artist on Show Band concerts, Show Band trumpeter King Dalton, Concertmaster Chris McAleer, dancer Kathy Soderlund, and the outstanding musicians of the Ontario Chaffey Community Show Band.  Brian will perform the theme songs from "Gone With the Wind," "Love Is a Many-Splendored Thing," and "Around the World in Eighty Days."  King will be the soloist on "The Windmills of Your Mind" from the "Thomas Crown Affair," Chris will sing the timeless hit "Over the Rainbow" from the "Wizard of Oz," and Kathy will dance to "There You'll Be," the theme song from the movie "Pearl Harbor."  Other hits include music from the pens of John Williams and Elton John.
Join us for a great night of music and enjoy a hot cup of FREE STARBUCKS COFFEE, and put some green stuff in the Hungry Tuba.  We will also have many of our DVD's available for a small donation.  The concert will be broadcast on local Ontario cable Channel 3.  Check your cable listings for the date and time.  For additional information regarding these performances or the rest of Show Band's upcoming concert season, please check our website at www.showband.net and follow the Show Band on Facebook, Twitter, YouTube, and Instagram.
The community can help support the Ontario Chaffey Community Show Band by becoming a patron of The Friends of the Ontario Chaffey Community Show Band Concert Society for $25.  Become a Bronze Baton donor for $50-$100; Steel Baton $150-$200; Silver Baton $250; Gold Baton $500; Platinum Baton $1,000 and Diamond Baton $2,500.  Individuals or businesses may also become a Show Sponsor for $2,500.  For more information on sponsoring a show, contact director Dr. Gabe Petrocelli at [email protected].  All Donor names will be included on every program and our website for the entire concert season.  Baton and Show Sponsors will also receive complementary DVDs of each performance.  The Friends of the Ontario Chaffey Community Show Band is a registered charity under Internal Revenue Code Section 501 C (3); EIN # 46-1422958.  Checks may be made out to: Friends of the OCCSB, P/O Box 1512, Ontario, CA 91762.