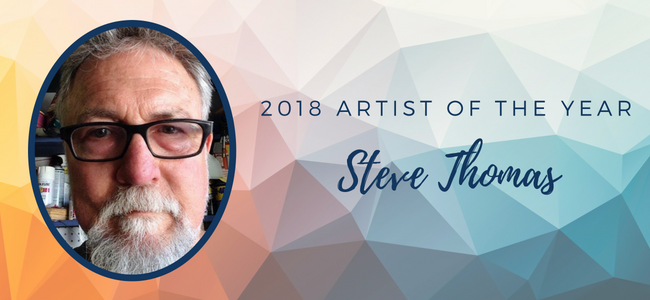 CCMA Palettes & Plates Annual Awards
Honoring 2018 Artist of the Year, Steve Thomas
Sunday, June 24 – 6 PM – 9 PM
Please join CCMA members and friends on Sunday, June 24 as we gather to honor CCMA's 2018 Artist of the Year Steve Thomas.
During his 30+ year career in the arts, Steve has been an award-winning photographer, art teacher and museum curator. He earned a BA in Studio Art from the University of California at Riverside in 1986 and his MFA in Photography from Mills College in 1989.
Following teaching assignments at Chaffey College and two Cal State University campuses, Steve was recruited as the curator of collections for the world-renowned UCR/California Museum of Photography, a position he held for 11 years. He later served as curator of education at Riverside Art Museum and retired in 2014 as the museum curator at the Ontario Museum of History & Art.
Steve co-founded ARTREACH, a program providing low-income community residents with introductory classes in visual arts, and was a visual arts instructor with the RIMS California Art Project, a professional development program for K-12 classroom art teachers.
In retirement, Steve continues his arts advocacy in many ways, including serving as a director of CCMA. In 2016, Steve was a CCMA Purchase Prize winner for his photograph Wolf House.
Palettes & Plates will be held at CCMA and will include hosted reception, dinner, silent auction, and an address by Steve. Invitations are being mailed next week.
Palettes & Plates
Sunday, June 24, 2018
6 pm – 9 pm
at CCMA
$65 per person
or 909-463-3733.