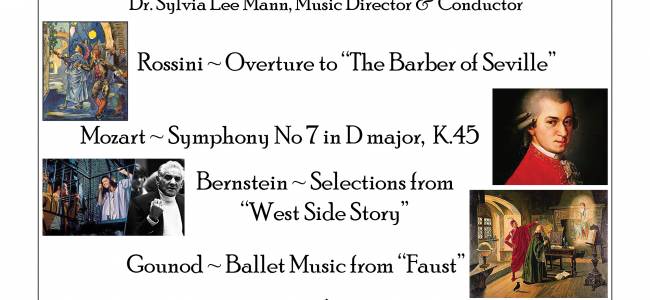 Wednesday, March 28, 2018
Ontario's Southland Symphony Presents "Genius"
Experience "Genius", The Southland Symphony Orchestra's Spring 2018 Concert, Saturday April 21st at 3pm at Bethel Congregational Church..
ONTARIO, Calif. – March 28, 2018 — The Southland Symphony Orchestra is returning with "Genius" – A celebration of genius in music. Don't miss this upcoming performance on Saturday, April 21, at 3 PM at the Bethel Congregational Church (536 N Euclid Ave)!
The "not to be missed" concert includes music of Mozart, Gounod, Rossini, and Bernstein. Each selection celebrates an anniversary of genius in music. Mozart's Symphony No. 7 was written 250 years ago, when the composer was just 12 years old! The 200th anniversary of Gounod's birth is marked with this performance of his Ballet Music from Faust. Gioachino Rossini's Overture to The Barber of Seville is performed in observance of the 150th anniversary of the composer's death, and in celebration of Leonard Bernstein's 100th birthday year, the orchestra brings you West Side Story Selections.
Music Director & Conductor Sylvia Lee Mann has just returned from taking SSO Chorus members to their triumphant performance of Mozart's Requiem at NY's Carnegie Hall with Distinguished Concerts International NY. Dr. Mann and the group were honored to have been invited to participate in the exclusive Presidents Day performance, and are further honored to have an open invitation to return for future performances. The Southland Symphony Orchestra and Chorus are fast becoming one of the finest musical experiences of the Inland Empire.
For a video preview. Visit https://vimeo.com/260835473
The Details of the upcoming concert are:
When: Saturday April 21, 2018 at 3pm
Where: Bethel Congregational Church, UCC 536 N Euclid Ave, Ontario CA 91762
What: Concert – "Genius"
Who: The Southland Symphony Orchestra. Dr. Sylvia Lee Mann, Music Director and Conductor
Music: Rossini (150th anniversary of death) – Overture to The Barber of Seville; Mozart Symphony No 7 k45  (completed Jan 1768 – 250th anniversary of the work); Gounod (200th anniversary year of Birth)Ballet Music from Faust; Bernstein (100th anniversary year of Birth)Selections from West Side Story .
Tickets: Free/$5/$20 available – visit http://southlandsymphony.com
The Southland Symphony is a non-profit organization, and needs your support to continue presenting these world-class qualirty concerts!
For even more info and to donate to the SSO – visit the symphony website (see link above) or donate using this PayPal link:
https://www.paypal.me/southlandsymphony
Dr. Mann says of the orchestra, " Our purpose is to enrich our community by engaging audiences and inspiring a love of music through exciting live symphony performances, innovative programming, and educational outreach."  We offer opportunities for the community to experience the very best in music, "right in their own back-yards."
No long drives to downtown Los Angeles, no expensive parking. Arts and music for our community, in our community.
The Southland Symphony Orchestra is a community orchestra, providing fantastic opportunities for qualified musicians to experience and perform live music of the highest quality. We welcome musicians of all ages and from all walks of life: Students and senior citizens, professionals and amateurs: Hobbyist, Professional, Retired…. All are welcome.
Are you a musician, and would you like a chance to participate? Musician Auditions: The Southland Symphony holds ongoing auditions for NEW musician members and chorus members. Interested musicians should contact us immediately for an audition, by calling (909) 235-9776 or emailing: [email protected]
Contact
Dr. Sylvia Lee Mann
[email protected]
9092359776