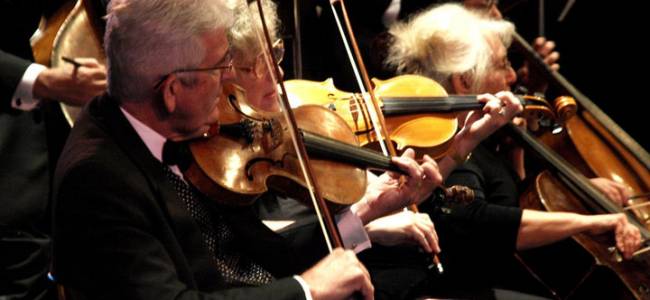 Tuesday, September 17, 2019
Ontario's Southland Symphony Orchestra Opens 9th Anniversary Season with "Pictures at an Exhibition"
The Southland Symphony Orchestra, under the direction of Dr. Sylvia Lee Mann, will open its 9th concert season with a special FREE concert at 2 p.m. on Saturday October 19, 2019 at the Ontario Festival of the Arts in Ontario California.
The orchestra will perform on the festival's main stage. The concert features Mussorgsky's "Pictures at an Exhibition" (Ravel orchestration) with special guest narrator/exhibition guide Rich Capparela (of KUSC).
"Pictures at an Exhibition" is one of the most spectacular works in orchestral repertoire. It is a stunning suite written by Mussorgsky in honor of a friend – a painter called Vladimir Hartmann who had died at the peak of his career, aged just 39.
Admission to the concert and to the Arts Festival is free. More information about the festival is available at https://ontarioarts.org/festival/ and information about the orchestra is available at http://southlandsymphony.com
Following the Festival appearance, the Southland Symphony will present six more concerts from November through June. Many concerts are presented at the historic Bethel Congregational Church, 536 N Euclid Ave, Ontario CA 91762. Other SSO concert venues include the Ontario Town Square Amphitheater (224 N Euclid Ave Ontario CA 91762) and Ontario High School's beautiful Auditorium (901 W Francis St Ontario CA 91762).
The Nov. 3rd, 2019 concert, "Pictures and Places," will feature a repeat performance of Mussorgsky/Ravel's "Pictures at an Exhibition". Additional works on the program are Grieg's "Peer Gynt Suite No. 1" and Sibelius' "Finlandia".
The Southland Symphony Orchestra and Chorus presents our third annual "Messiah" on Sunday December 8th, 2019 at 4pm at Bethel Congregational Church. Our annual Messiah has quickly become one of the orchestra's most popular events. The tradition of the annual downtown Ontario "Messiah" presentation with full Chorus, soloists, and orchestra was revived 3 years ago, after a 45+ year absence.
The SSO honors the 250th anniversary year of Ludwig van Beethoven's birth in all our 2020 concerts this season. Our 3 spring concerts all include music of Beethoven, with the highlight being our presentation of Beethoven's 9th Symphony on Sunday May 31st.
The Feb. 16th, 2020 concert, "Love and Art", features Tchaikovsky's dynamic "Romeo and Juliet Fantasy Overture". Other works to be performed include Schubert's "Rosamunde Overture"; Saint-Saëns "Bacchanale" from "Samson and Delilah"; and Beethoven's "Overture to the Creatures of Prometheus". The concert will be presented at 4pm on Sunday February 16, 2020, at Bethel Congregational Church.
The orchestra presents internationally acclaimed cello soloist, Ruslan Biryukov on Sunday, March 29th, 2020 at 4pm at Bethel Congregational Church. Mr. Biryukov will be featured in a cello concerto. The work itself is yet to be finalized – very likely this will be a world premiere performance. The SSO will also perform Beethoven's "Overture to Egmont", and Schubert's Symphony No. 8 "Unfinished".
On May 31st, 2020 at 4pm, the Southland Symphony Orchestra and Chorus with soloists present Beethoven's immortal "Symphony No. 9 – Choral", in honor of the SSO's 9th season and the 250th year anniversary of Beethoven's birth. The concert will be presented at Ontario High School's Auditorium –
a beautiful facility located at 901 W Francis St., Ontario CA 91762.
On Saturday June 21st, 2020 at 7pm, the orchestra will open it's 2020 Summer Season with a special Symphony Pops Concert at Ontario's Town Square Amphitheater, 224 N Euclid Ave Ontario CA 91762.
Dr Sylvia Lee Mann is the Southland Symphony Orchestra's Founder, Music Director and Conductor.
FREE ADMISSION is available for all concerts. Paid tickets for the November 3rd through May 31st concerts
are $5-$20. (Paid tickets include door-prize tickets and preferred seating). No one is ever turned away for lack
of ticket $. For information, call 909-235-9776, email [email protected] or go to www.southlandsymphony.com .
The orchestra is only able to present these wonderful concerts with the support of the community, and we need YOUR support. Please donate today by visiting our website, mailing a check to Southland Symphony Orchestra 536 N Euclid Ave Ontario CA 91762, or visiting https://paypal.me/southlandsymphony