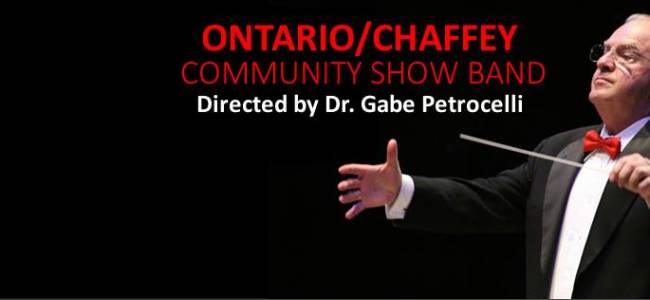 Friday, September 6, 2019
Ontario Chaffey Community Show Band Concert
The Ontario Chaffey Community Show Band and Bellevue Memorial Park are proud to present "Swinging with Aimee and the Show Band" on Monday, September 9th, 2019.  The Show Band is excited to begin their 2019-20 concert season by returning home to the newly renovated and historic Gardiner W. Spring Auditorium, located in the center of the campus of Chaffey High School at 1245 N. Euclid Ave.  Early concert goers are invited to arrive at 6:45 p.m. to be entertained by the "Woodwind Celebration" ensemble in the lobby while enjoying complimentary cookies and Starbucks coffee.  At 7:15 p.m. there will be a special presentation by Chaffey School District Superintendent Dr. Mathew Holton and Chaffey High School Director of Fine Arts Mr. David Masterson highlighting the renovation of Gardiner W. Spring Auditorium.  They will also narrate the concert which will begin at 7:30 p.m. and is FREE to the public.
The concert repertoire will feature the music of the Swing Era.  A set of Duke Ellington hits will include "Take the 'A' Train," "Don't Get Around Much Anymore," "I'm Beginning to See the Light" featuring Trombonist Davis Abrego, and "Satin Doll."  Other hit songs include Trombonist Steven Osorio performing the famous Tommy Dorsey hit "I'm Getting Sentimental Over You" and Assistant Director and tenor saxophonist Pat Arnold taking the lead on "Moondance."  Concertmaster and vocalist Chris McAleer will sing "All of Me," "The ABC's of Love," and then perform the clarinet solo on Benny Goodman's "Sing Sing Sing."
The evening's special guest artist will be jazz singer, composer, pianist and YouTube star, Aimee Nolte.  Aimee lives in the LA area and performs regularly, both as a soloist and with her trio.  She is primarily a jazz player but knows over a thousand songs and can play them at the drop of a hat.  She has a jazz piano degree from Brigham Young University and has been an active performer ever since she graduated in 1998, even as a wife and mother of four.  She has released three full-length albums so far that have been reviewed as deeply personal, captivating pieces of art.  In 2016, Aimee started her YouTube channel, "Aimee Nolte Music" where she now has over 150K subscribers.  She shares the music that is inside of her with the world.  Teaching topics like harmony, arranging, advanced jazz piano techniques, and even beginning piano and vocal skills comes as second nature to Aimee.  Aimee will be the featured vocalist/pianist on "Green Dolphin Street," "I'm Old Fashioned," "I've Got the World On a String," "Have You Met Miss Jones," "Manhattan," and "Just in Time."
Join us for a great night of music while having a hot cup of FREE STARBUCKS COFFEE, and put some green stuff in the Hungry Tuba.  We will also have many of our DVD's available for a small donation.  This concert will be broadcast on local Ontario cable Channel 3.  Check your cable listings for the date and time.  For additional information regarding these performances or the rest of Show Band's upcoming concert season, please check our website at www.showband.net [showband.net] and follow the Show Band on Facebook [facebook.com], Twitter [twitter.com], YouTube [youtube.com], and Instagram [instagram.com].
The community can help support the Ontario Chaffey Community Show Band by becoming a patron of The Friends of the Ontario Chaffey Community Show Band Concert Society for $25.  Become a Bronze Baton donor for $50-$100; Steel Baton $150-$200; Silver Baton $250; Gold Baton $500; Platinum Baton $1,000 and Diamond Baton $2,500.  Individuals or businesses may also become a Show Sponsor for $1,000.  For more information on sponsoring a show, contact director Dr. Gabe Petrocelli at [email protected].  All Donor names will be included on every program and our website for the entire concert season.  Baton and Show Sponsors will also receive complementary DVDs of each performance.  The Friends of the Ontario Chaffey Community Show Band is a registered charity under Internal Revenue Code Section 501 C (3); EIN # 46-1422958.  Checks may be made out to: Friends of the OCCSB, P/O Box 1512, Ontario, CA 91762.
—–
The Ontario Chaffey Community Show Band was founded in 1985 by R. Jack Mercer and is now under the direction of Dr. Gabe Petrocelli with assistant directors David Schaafsma and Pat Arnold.  Band members represent at least two dozen communities throughout Southern California.  Adult and student musicians are invited to participate.  No auditions!  Rehearsals are held on Monday evenings from 7 to 9:00 p.m. at the Chaffey High School Jack Mercer Band Room.  The band performs monthly concerts in the Merton Hill Auditorium and at other venues throughout the community.  All performances are free to the public.