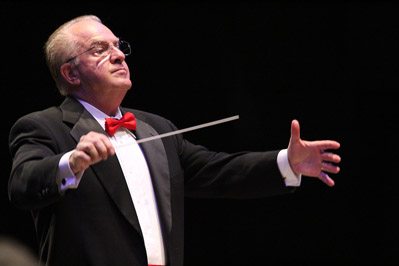 Ontario Chaffey Community Show Band Concert
The Ontario Chaffey Community Show Band and the Petrocelli Family are proud to present "Musica Caliente" on Monday, October 14th, 2019 in newly renovated and historic Gardiner W. Spring Auditorium, located in the center of the campus of Chaffey High School at 1245 N. Euclid Ave.  Early concert goers are invited to arrive at 7:00 p.m. to be entertained by the "Woodwind Celebration" ensemble in the lobby while enjoying complimentary cookies and Starbucks coffee.  The concert begins at 7:30 p.m. and is FREE to the public.
The Show Band will present a selection of Latin music in celebration of Hispanic Culture Month and are excited to feature Grammy-nominated trumpeter Dr. Bobby Rodriguez as one of our guest artists. Also joining the band for the evening is renowned percussionist Homero Chavez, who will contribute an array of authentic Latin rhythms to the performance. Joining the outstanding musicians of the Ontario Chaffey Community Show Band as featured Show Band soloists are vocalist Chris McAleer, saxophonist Pat Arnold, and dancer Kathy Soderlund.
Born and raised in East Los Angeles, Dr. Rodriguez is acknowledged as a Latin legend, dynamic leader, gifted trumpeter, composer/arranger, author and educator.  He is an active speaker and clinician who has dedicated his life to help promote music.  His latest textbook "ABC's of Brass Warm-Up – One Note Approach," is a valuable new edition of literature for the aspiring young brass players, as is his first textbook "ABC's of Latin Jazz."  The Show Band will be performing his original composition entitled "El Conquistador."
Dr. Rodriguez has earned one Gold and three Platinum records, produced six of his own recordings, and countless recordings for other artists.  His newest release is entitled "Celebration," a self-reflection of his music.  Dr. Rodriguez is very active in his community and serves on the board of a number of musical organizations.  Currently, he is the director of Latin Music at U.C.L.A, U.C.I., Pasadena City College, and President of the Hispanic Musicians Association.
Latin percussionist and educator Homero Chavez is no stranger to the Show Band stage.  He has been a featured soloist on the last four Show Band Hispanic music concerts.  Homero has received international recognition as a performer, educator, producer, and humanitarian.  He has created a number of percussion programs such as the "StompKids" and "The Independent Drummer."  He has been recognized for his passionate work as an educator by a number of organizations.  Homero is currently a faculty member at the Claremont Community School of Music and conducts a monthly Cajon workshop at the REMO Recreational Music Center in North Hollywood.  In addition, he leads the Latin Jazz group "Una Noche" and the "Mixto Percussion Ensemble."
The concert repertoire will feature a variety of well-known Latin songs and original works by Dr. Rodriguez and Dr. Petrocelli.  The performance will be narrated by Elvia Rivas and Alex Espinoza.
Join us for a hot night of music while having a hot cup of FREE STARBUCKS COFFEE, and put some green stuff in the Hungry Tuba.  We will also have many of our DVD's available for a small donation.  This concert will be broadcast on local Ontario cable Channel 3.  Check your cable listings for the date and time.  For additional information regarding these performances or the rest of Show Band's upcoming concert season, please check our website at www.showband.net [showband.net] and follow the Show Band on Facebook [facebook.com], Twitter [twitter.com], YouTube [youtube.com], and Instagram [instagram.com].
The community can help support the Ontario Chaffey Community Show Band by becoming a patron of The Friends of the Ontario Chaffey Community Show Band Concert Society for $25.  Become a Bronze Baton donor for $50-$100; Steel Baton $150-$200; Silver Baton $250; Gold Baton $500; Platinum Baton $1,000 and Diamond Baton $2,500.  Individuals or businesses may also become a Show Sponsor for $1,000.  For more information on sponsoring a show, contact director Dr. Gabe Petrocelli at [email protected].  All Donor names will be included on every program and our website for the entire concert season.  Baton and Show Sponsors will also receive complementary DVDs of each performance.  The Friends of the Ontario Chaffey Community Show Band is a registered charity under Internal Revenue Code Section 501 C (3); EIN # 46-1422958.  Checks may be made out to: Friends of the OCCSB, P/O Box 1512, Ontario, CA 91762.
—–
The Ontario Chaffey Community Show Band was founded in 1985 by R. Jack Mercer and is now under the direction of Dr. Gabe Petrocelli with assistant directors David Schaafsma and Pat Arnold. Band members represent at least two dozen communities throughout Southern California. Adult and student musicians are invited to participate. No auditions! Rehearsals are held on Monday evenings from 7 to 9:00 p.m. at the Chaffey High School Jack Mercer Band Room. The band performs monthly concerts in the Merton Hill Auditorium and at other venues throughout the community. All performances are free to the public.