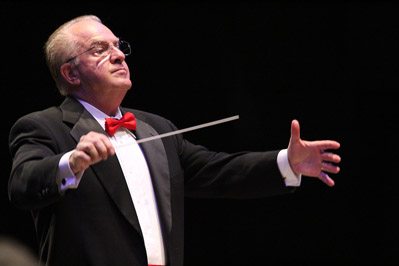 Wednesday, November 6, 2019
Duty, Honor, Country: A Salute to Our Veterans
The Ontario Chaffey Community Show Band and Foothill Self Storage are proud to present "Duty, Honor, Country: A Salute to Our Veterans" on Monday, November 11th, 2019 in newly renovated and historic Gardiner W. Spring Auditorium, located in the center of the campus of Chaffey High School at 1245 N. Euclid Ave.  Early concert goers are invited to arrive at 7:00 p.m. to be entertained by the "Woodwind Celebration" ensemble in the lobby while enjoying complimentary cookies and Starbucks coffee.  The concert begins at 7:30 p.m. and is FREE to the public.

The Show Band will honor our veterans by dedicating the first half of the concert with a collection patriotic music.  The Chaffey High School Naval JrROTC will post the colors followed with the invocation by Pastor and Retired Marine Corps veteran Cass Schreib.  Each branch of the service will be recognized by their military song which will be sung by Show Band Concertmaster and vocalist Chris McAleer.  Additional selections will include an inspiring work entitled "Duty, Honor, Country" narrated by Rob Van Riel; an original composition titled "The Last Soldier" written by Colony High School 9th Grade student and Show Band member DeMarqis Frazier.  To conclude the first half of the program, a military rifle team of veterans will execute a 21-gun salute, followed by taps and "The Navy Hymn".

The second half of the program will feature memorable songs from World War II.  Guest vocalist Peter Schultz will sing "Sentimental Journey," "Moonlight in Vermont," and "I'll Be Seeing You."  Chris McAleer will perform "Don't Sit Under the Apple Tree," "White Cliffs of Dover," and "Boogie Woogie Bugle Boy of Company C."  The concert will conclude with two serious works entitled "The Red-Covered Bridge" and "Victory at Sea."  The program will be narrated by Rob Van Riel.

The Show Band Family supports "Cell Phones for Soldiers," a non-profit organization dedicated to providing cost-free communication services and emergency funding to active-duty members and veterans.  Since 2001, Cell Phones for Soldiers has provided more than 300 million minutes of free talk time, assisted veterans and their families in-need, recycled more than 15 million cell phones, and mails approximately 1,500 calling cards each week.  When you come to the concert, please bring your old cellphones and/or make a contribution to this great program.  A table will be set up in the lobby.

Join us for a hot night of music while having a hot cup of FREE STARBUCKS COFFEE, and put some green stuff in the Hungry Tuba.  We will also have many of our DVD's available for a small donation.  This concert will be broadcast on local Ontario cable Channel 3.  Check your cable listings for the date and time.  For additional information regarding these performances or the rest of Show Band's upcoming concert season, please check our website at www.showband.net [showband.net] and follow the Show Band on Facebook [facebook.com], Twitter [twitter.com], YouTube [youtube.com], and Instagram [instagram.com].

The community can help support the Ontario Chaffey Community Show Band by becoming a patron of The Friends of the Ontario Chaffey Community Show Band Concert Society for $25.  Become a Bronze Baton donor for $50-$100; Steel Baton $150-$200; Silver Baton $250; Gold Baton $500; Platinum Baton $1,000 and Diamond Baton $2,500.  Individuals or businesses may also become a Show Sponsor for $1,000.  For more information on sponsoring a show, contact director Dr. Gabe Petrocelli at [email protected].  All Donor names will be included on every program and our website for the entire concert season.  Baton and Show Sponsors will also receive complementary DVDs of each performance.  The Friends of the Ontario Chaffey Community Show Band is a registered charity under Internal Revenue Code Section 501 C (3); EIN # 46-1422958.  Checks may be made out to: Friends of the OCCSB, P/O Box 1512, Ontario, CA 91762.

—–

The Ontario Chaffey Community Show Band was founded in 1985 by R. Jack Mercer and is now under the direction of Dr. Gabe Petrocelli with assistant directors David Schaafsma and Pat Arnold.  Band members represent at least two dozen communities throughout Southern California.  Adult and student musicians are invited to participate.  No auditions!  Rehearsals are held on Monday evenings from 7 to 9:00 p.m. at the Chaffey High School Jack Mercer Band Room.  The band performs monthly concerts in the Merton Hill Auditorium and at other venues throughout the community.  All performances are free to the public.