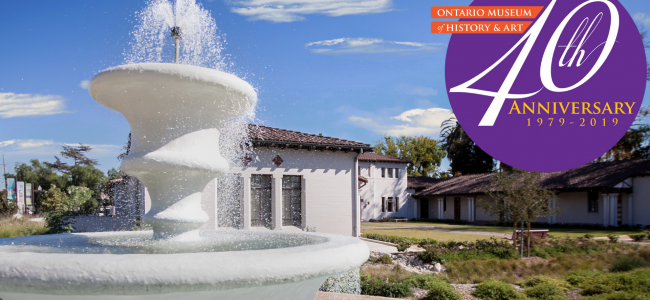 Celebrate the Ontario Museum of History & Art's 40th Anniversary
The Ontario Museum of History & Art is celebrating a milestone birthday! Join us for the Museum's 40th Anniversary Celebration event on Friday, September 6, 2019 from 5 PM to 8 PM.  The Museum has many exciting activities scheduled.  To learn more about events, sign up for the Museum's E-Newsletter by visiting www.OntarioCA.gov/Museum.
Museum 40th Anniversary Celebration Event
Friday, September 6, 2019 (5 PM to 8 PM)
Our supporters are the lifelines of the Museum, and we certainly would not be commemorating 40 successful years without our biggest ambassadors.  Let us celebrate you: members, arts leaders, educators, students, and area residents, for all of your support.  The program will include artist demos and vendors, dance performances, a drop-in art workshop, and a sampling of local wines and delicacies.  Remarks begin at 6 PM.  Light refreshments and hors d'oeuvres will be served.
Activities Include:
Food sampling from Beola's Southern Cuisine, Drake Family Farms (Goat Cheese), Graber Olive House, and Logan's Candies.
Wine sampling from Joseph Filippi Winery, Galleano Winery, and San Antonio Winery.  Must be 21 and over and provide proof of ID.
Artist vendors and demonstrations by Carmen Vargas (Jewelry) and Jessica Cruz (Painting).
Live performances by Bre Dance Studio (Music across the decades) at 6:15 PM, Michelle Moonflower (Hula Hoop) at 6:45 PM, and the Southland Symphony Quartet at 7:15 PM.
Art Workshop with artist Allyson Allen.
Open to the public and free admission to all activities.  For more information call, (909) 395‑2510 or email [email protected].