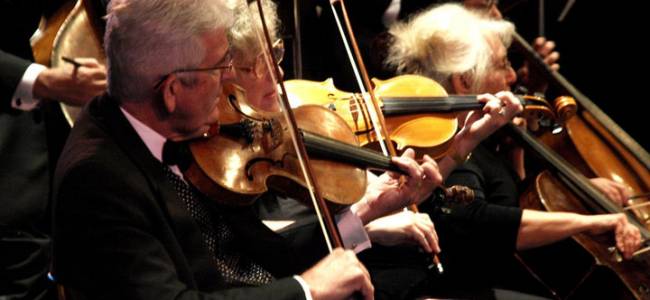 Tuesday, October 30, 2018
Southland Symphony Orchestra Season Opening Concert
The 2018-2019 SSO season begins with "Freedom" – The concert will be presented on November 4th, 2018 at 4 pm at Bethel Congregational Church UCC, 536 N Euclid Ave Ontario CA 91762.
ONTARIO, Calif. – The Southland Symphony Orchestra is pleased to announce our Official Season Opening Concert – "FREEDOM" on Sunday, November 4, 2018, at 4 pm. "Dedicated to America, Freedom, the Greatest Generation, and all those who have served." Dr. Sylvia Lee Mann, Music Director and Conductor; Mayor Paul Leon and the Reverend. Dr. Art Cribbs, narrators.
George Osorio, our assistant conductor, will present a free pre-concert mini-lecture at 3:30pm. He will share special insights about the music.
Musical Selections for this concert include:
William Grant Still – Fanfare for American War Heroes
Sylvia Lee Mann – Declaration and Preamble, with narration by Mayor Paul Leon and the Rev. Dr. Art Cribbs (World Premiere)
Aaron Copland – Variations on a Shaker Melody
Ludwig van Beethoven – Symphony No. 5 in C minor
Free admission available! A $5 donation is requested (not required) for general admission. No one is turned away for inability to donate. Those who make the $5 donation also receive 6 free door-prize tickets. The donations help us provide these concerts. (Each concert costs about $2500 – $3000 to produce.)
$20 "Premium" tickets are available (These tickets include "best" seats, special treats, door-prize tickets, and wine-tasting at intermission).
Visit http://southlandsymphony.com for more information and to purchase tickets.
To donate to the SSO – visit the symphony website (see link above) or donate using this PayPal link: https://paypal.me/southlandsymphony
More Official Season Concerts: December 9 – "Messiah". Jan. 27 – "The Best Baroque Concert". March 31 – "Beauty and Power" with the SSO Chorus.
Special Events: November 18 – SSO/Chaffey College Community Singer Awards Benefit. April 28 – Special Benefit "Season Finale" Concert – with selections chosen by our audience.  June 9 – Summer Pops at Town Square.
About the Southland Symphony Orchestra & Chorus:
The Southland Symphony, now in its 8th season, presented its first concert in Ontario on Sunday, December 11, 2011. The orchestra's founder and director, Dr. Sylvia Lee Mann, who had recently relocated to the area, saw a need and an opportunity to bring symphonic music to the larger Ontario Community, a community which was already embracing arts and culture. Since that first concert, we have presented more than 40 free, full-orchestra concerts for this community. We have presented internationally renowned musicians from all over the globe, performing music of the greatest composers of history, and music of great composers still living today. The SSO Chorus became part of the organization in 2016 and has already won national recognition. Chorus members were part of the Distinguished Concerts International New York Carnegie Hall Presidents' Day 2018 concert presentation of the Mozart Requiem. The Southland Symphony is a non-profit organization, and needs your support to continue presenting these world-class quality concerts!
For even more info and to donate to the SSO – visit the symphony website (see link above) or donate using this PayPal link: https://paypal.me/southlandsymphony
Dr. Mann says of the orchestra, " Our purpose is to enrich our community by engaging audiences and inspiring a love of music through exciting live symphony performances, innovative programming, and educational outreach."  We offer opportunities for the community to experience the very best in music, "right in their own back-yards."
No long drives to downtown Los Angeles, no expensive parking. Arts and music for our community, in our community.
The Southland Symphony Orchestra is a community orchestra, providing fantastic opportunities for qualified musicians to experience and perform live music of the highest quality. We welcome musicians of all ages and from all walks of life: Students and senior citizens, professionals and amateurs: Hobbyist, Professional, Retired…. All are welcome.
Are you a musician, and would you like a chance to participate? Musician Auditions: The Southland Symphony holds ongoing auditions for NEW musician members and chorus members. Interested musicians should contact us immediately for an audition, by calling (909) 235-9776 or emailing: [email protected]