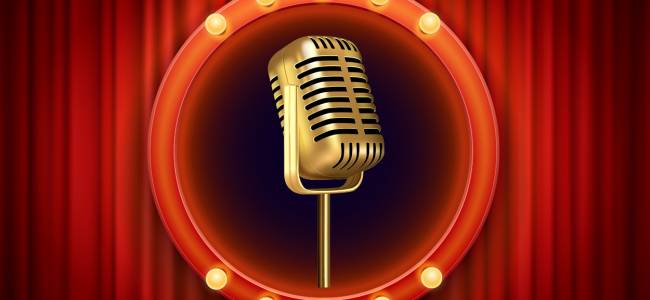 Wednesday, January 15, 2020
Grand Ole Opry and Songs of America
The Ontario Chaffey Community Show Band and the Ovitt Family are proud to present "Grand Ole Opry and Songs of America" on Monday, January 20, 2020 at Gardiner W. Spring Auditorium, located on the campus of Chaffey High School at 1250 N. Euclid Ave. in Ontario.  Early concert goers are invited to enjoy complimentary cookies and Starbucks coffee served in the lobby at 7:00 p.m. with pre-concert entertainment provided by the Woodwind Celebration.  The performance begins at 7:30 p.m. and is FREE to the public.
The concert will include a repertoire of popular country hits and American folksongs and features special guest artists, singer Bob Morley and Dr. Sylvia Mann, conductor of the Southland Symphony and Chorale.  Also highlighting the program is Show Band Concertmaster Chris McAleer, selected musicians from the Southland Symphony Orchestra and the outstanding musicians of the Ontario Chaffey Community Show Band.  In addition, five secondary school students will be awarded Lou Dokken Brass Scholarships and each will perform a short musical selection.
Bob Morley started performing when he was in the sixth grade.  At 14, he started his own rock-and-roll band at the birth of the genre in the 50s.  He traveled nationally as a solo performer, with a gospel quartet, and later with a folk trio, performing in every state and a half dozen foreign countries.  Most notably, he did a concert tour of the Soviet Union during the Cold War years and one in Communist China.  He has performed for military basses across the country and in England and Germany.  Most of Bob's musical talent, however, has been directed toward the ministry of the Church.  Bob is an ordained United Methodist minister having served churches in Southern California and Hawaii over his 43-year career.  As a retiree, he continues to be active as a musician/entertainer and as a husband and father.  Bob's wife Isla is a published novelist and their daughter Emily, a high school senior, is an accomplished classical pianist.
Dr. Sylvia Lee Mann, a Los Angeles native, is a composer, conductor, violist, author, speaker and multi-instrumental performer who has appeared with many music ensembles throughout the country.  Dr. Mann is the Music Director and Conductor of Ontario's Southland Symphony Orchestra, and is the Pastor and Minister of Music at the Bethel Congregational Church in Ontario.  Currently, she serves on the faculty of Chaffey College and St. Theresa Open Catholic Seminary.  From 1987-2002 she was the principal violist with the Shreveport Louisiana Symphony Orchestra and currently serves in the same position with the Culver City and Marina Del Rey Symphony Orchestra.  Dr. Mann is an outstanding composer whose works have been performed by numerous orchestras and ensembles.  She was featured in the Culver City's historic concert "The American Beat – Women Composers."  Dr. Mann states – "Our purpose is to enrich the community by engaging audiences and inspiring a love of music through exciting live symphony performances, innovative programming, and educational outreach to the community."
The concert will begin with performances by the Lou Dokken Scholarship recipients.  Bob Morley will then take center stage and sing several country favorites including an original song he wrote entitled "Heartache in Dallas."  Chris McAleer will follow with several country melodies.  Bob returns to sing "Mammas Don't Let Your Sons Grow Up to Be Cowboys" and "The Gambler."
In the second half of the concert, the Show Band will be joined by Dr. Mann and musicians from the Southland Symphony Orchestra.  She will perform a viola solo on the Grand Ole Opry classic "Wabash Cannonball."  Dr. Mann will then take the podium to conduct a medley of famous American folk songs and the concert finale, an instrumental collection of famous hits recorded by the late, great Glen Campbell.
Join us for a great night of music while having a hot cup of FREE STARBUCKS COFFEE, and put some green stuff in the Hungry Tuba.  We will also have many of our DVD's available for a small donation.  This concert will be broadcast on local Ontario cable Channel 3.  Check your cable listings for the date and time.  For additional information regarding these performances or the rest of Show Band's upcoming concert season, please check our website at www.showband.net and follow the Show Band on Facebook, Twitter, YouTube, and Instagram.
The community can help support the Ontario Chaffey Community Show Band by becoming a patron of The Friends of the Ontario Chaffey Community Show Band Concert Society for $25.  Become a Bronze Baton donor for $50-$100; Steel Baton $150-$200; Silver Baton $250; Gold Baton $500; Platinum Baton $1,000 and Diamond Baton $2,500.  Individuals or businesses may also become a Show Sponsor for $1,000.  For more information on sponsoring a show, contact director Dr. Gabe Petrocelli at [email protected].  All Donor names will be included on every program and our website for the entire concert season.  Baton and Show Sponsors will also receive complementary DVDs of each performance.  The Friends of the Ontario Chaffey Community Show Band is a registered charity under Internal Revenue Code Section 501 C (3); EIN # 46-1422958.  Checks may be made out to: Friends of the OCCSB, P/O Box 1512, Ontario, CA 91762.