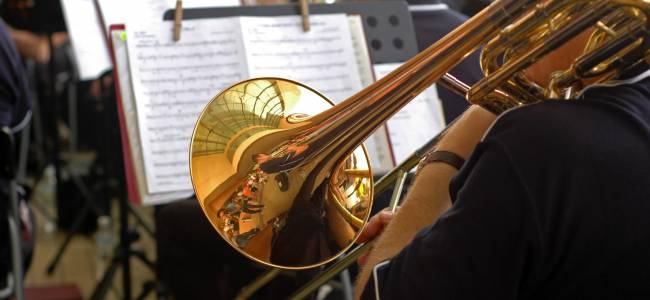 Saturday, November 11, 2017
Veterans – Our National Treasure
The Ontario Chaffey Community Show Band is proud to present a special "Veterans – Our National Treasure" on Monday, November 13, 2017 at the Bandshell at the beautiful Ontario Town Square, located one block East of Euclid Ave. at the corner of "B" Street and Lemon Ave. in downtown Ontario. The program will be in two parts and give thanks for our Veterans and our men and women serving in the United States Armed Forces. The city will provide 150 chairs for our fans or you can bring your lawn chairs and/or blanket and make your own spot in the grass in front of the Bandshell. Early concert goers are invited to come at 7:00 p.m. and enjoy complimentary cookies and Starbucks coffee. The concert begins at 7:30 p.m. and is FREE to the public.
The concert will feature the outstanding musicians of the Ontario Chaffey Community Show Band and is divided into two parts; the first half opens with an inspirational performance of "This Is My Country" under the baton of Show Band Assistant Director David Schaafsma. The Chaffey High School Naval Jr ROTC Color Guard will follow with the posting of the colors. The concert will be hosted by Mayor Paul Leon and Gary Ovitt. Each branch of the armed forces will be introduced with a medley of service songs honoring the United States Army, Navy, Marine Corps, Coast Guard, and the Air Force. The featured vocal soloist will be Show Band Concertmaster Chris McAleer. Also in attendance will be a military rifle team to perform a 21 gun salute honoring all veterans living and those who gave their lives in defense of our country. The rifle salute is followed by "Taps" by Show Band trumpeter Mike Pfister. The first half concludes with "The Navy Hymn."
The second half of the program will be conducted by Assistant Director Pat Arnold. The repertoire includes Sousa's "Washington Post March;" two symphonic band selections titled "Heritage of Freedom" and "Irving Berlin's Songs for America;" a special arrangement of "General Custer March" by Felix Vinatieri; Lee Greenwood's "God Bless the USA;" and concludes with Richard Rodgers' famous military orchestral suite "Victory at Sea."
Join us for an evening of honoring our Veterans and enjoy a hot cup of FREE STARBUCKS COFFEE, and put some green stuff in the Hungry Tuba. We will also have many of our DVD's available for a small donation. The concert will be broadcast on local Ontario cable Channel 3. Check your cable listings for the date and time. For additional information regarding these performances or the rest of Show Band's upcoming concert season, please check our website at www.showband.net and follow the Show Band on Facebook, Twitter, YouTube, and Instagram.
The community can help support the Ontario Chaffey Community Show Band by becoming a patron of The Friends of the Ontario Chaffey Community Show Band Concert Society for $25. Become a Bronze Baton donor for $50-$100; Steel Baton $150-$200; Silver Baton $250; Gold Baton $500; Platinum Baton $1,000 and Diamond Baton $2,500. Individuals or businesses may also become a Show Sponsor for $2,500. For more information on sponsoring a show, contact director Dr. Gabe Petrocelli at [email protected]. All Donor names will be included on every program and our website for the entire concert season. Baton and Show Sponsors will also receive complementary DVDs of each performance. The Friends of the Ontario Chaffey Community Show Band is a registered charity under Internal Revenue Code Section 501 C (3); EIN # 46-1422958. Checks may be made out to: Friends of the OCCSB, P/O Box 1512, Ontario, CA 91762.
—–
The Ontario Chaffey Community Show Band was founded in 1985 by R. Jack Mercer and is now under the direction of Dr. Gabe Petrocelli with assistant directors David Schaafsma and Pat Arnold. Band members represent at least two dozen communities throughout Southern California. Adult and student musicians are invited to participate. No auditions! Rehearsals are held on Monday evenings from 7 to 9:00 p.m. at the Chaffey High School Jack Mercer Band Room. The band performs monthly concerts in the historic Gardiner W. Spring Auditorium and at other venues throughout the community. All performances are free to the public.