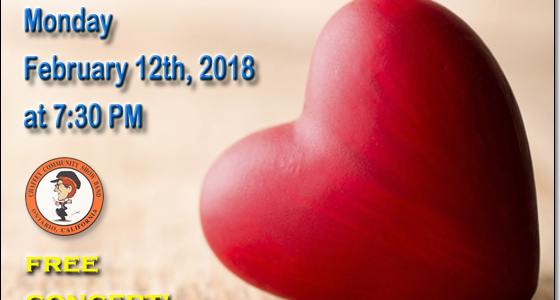 Thursday, February 1, 2018
The Show Band's February 12th Concert
The Ontario/Chaffey Community Show Band is proud to present "We Wish You Love" on Monday February 12th at 7:30 p.m. in Merton Hill Auditorium located at the corner of 5th Street and Euclid Ave on the campus of Chaffey High School in Ontario.  Early birds are invited to come at 7:00 p.m. to enjoy complimentary cookies and Starbucks coffee and listen to the "Woodwind Celebration" in the lobby of the auditorium.  Admission to the concert is FREE to the public.
The concert repertoire will consist of a collection of love songs to celebrate Valentine's Day.  The performance features the outstanding musicians of the Show Band and guest vocal artist, and long time friend of the Show Band, Jim Bonner.  Jim will perform the timeless standard "Georgia On My Mind," along with "Mona Lisa," a song popularized by Nat King Cole, and "Love Is a Work of Art."
The Show Band musicians will be featured in a number of popular love songs that include "I Wish You Love," "It Had to Be You," "No Other Love," and "What the World Needs Now is Love."
Also featured on the program is concertmaster Chris McAleer.  She will sing several popular love songs that include "Cry Me a River," " L.O.V.E.," "June in January," and the Gershwin classic "The Man I Love."  Show Band Assistant Director and saxophonist Pat Arnold will perform the beautiful Burt Bacharach/Hal David ballad "Here I Am" from the motion picture "What's New Pussycat" and Show Band trumpet player Mike Pfister will solo on the haunting standard "Deep Purple."
Join us for a great night of music while having a hot cup of FREE STARBUCKS COFFEE, and put some green stuff in the Hungry Tuba.  We will also have many of our DVD's available for a small donation.  The concert will be broadcast on local Ontario cable Channel 3.  Check your cable listings for the date and time.  For additional information regarding these performances or the rest of Show Band's upcoming concert season, please check our website at www.showband.net and follow the Show Band on Facebook, Twitter, YouTube, and Instagram.
The community can help support the Ontario Chaffey Community Show Band by becoming a patron of The Friends of the Ontario Chaffey Community Show Band Concert Society for $25.  Become a Bronze Baton donor for $50-$100; Steel Baton $150-$200; Silver Baton $250; Gold Baton $500; Platinum Baton $1,000 and Diamond Baton $2,500.  Individuals or businesses may also become a Show Sponsor for $2,500.  For more information on sponsoring a show, contact director Dr. Gabe Petrocelli at [email protected].  All Donor names will be included on every program and our website for the entire concert season.  Baton and Show Sponsors will also receive complementary DVDs of each performance.  The Friends of the Ontario Chaffey Community Show Band is a registered charity under Internal Revenue Code Section 501 C (3); EIN # 46-1422958.  Checks may be made out to: Friends of the OCCSB, P/O Box 1512, Ontario, CA 91762.
—–
The Ontario Chaffey Community Show Band was founded in 1985 by R. Jack Mercer and is now under the direction of Dr. Gabe Petrocelli with assistant directors David Schaafsma and Pat Arnold.  Band members represent at least two dozen communities throughout Southern California.  Adult and student musicians are invited to participate.  No auditions!  Rehearsals are held on Monday evenings from 7 to 9:00 p.m. at the Chaffey High School Jack Mercer Band Room.  The band performs monthly concerts in the historic Gardiner W. Spring Auditorium and at other venues throughout the community.  All performances are free to the public.
Your Band Director,
Gabe