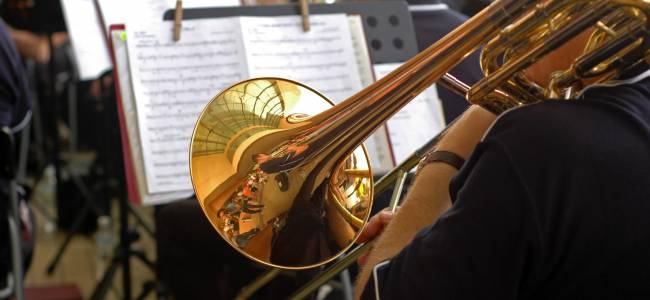 Thursday, December 14, 2017
The Show Band's December 18th Holiday Concert
The Ontario Chaffey Community Show Band, City of Ontario/Ontario Convention Center, and the Ortiz Family are proud to present "A Holiday Festival" on Monday December 18, 2017 at 7:30 p.m. in the Main Ballroom of the beautiful Ontario Convention Center.  The center is located at 2000 E. Convention Center Way in Ontario.  Early birds are invited to come at 7:00 p.m. to enjoy complimentary cookies, Starbucks coffee and listen to the pre-concert music of the "Woodwind Celebration" and "Jaeger Family Brass Ensemble."  Admission to the concert and parking are FREE to the public.
The outstanding musicians of the Ontario Chaffey Community Show Band are highlighted in an evening of festive music designed to usher in and celebrate the spirit the holidays.  The performance will feature a medley of well-known carols that include an audience sing along, a special visitor from the North Pole, and guest solo artists: renown Jazz musician Aimee Nolte and cellist Matthew Keating.  In addition, Show Band Concertmaster and clarinetist/vocalist Chris McAleer will sing "Have Yourself A Merry Little Christmas" and narrate "'Twas the Night Before Christmas."  The Show Band repertoire includes Leroy Anderson's "Sleigh Ride," the popular holiday favorite "God Rest Ye Merry Gentlemen," "O Holy Night" performed as a euphonium solo by Matt Nowlin, and a medley of songs in celebration of Hanukkah.  The audience will also have the opportunity to join in singing "Silent Night" at the conclusion of the performance.
Aimee Nolte is an outstanding jazz musician/singer and composer who has graced the Show Band stage on numerous concerts in the past.  In addition, Aimee is quickly becoming a highly sought after educator in the jazz community, since launching her YouTube channel, Aimee Nolte Music.  She spent a 10 day stint as an instructor for the renowned vocal coach David Braid's VocalizeU camp in Malibu during the summer of 2016 and continues to teach clinics and master classes to students who want to learn to scat sing like serious jazz musicians and take their improvisation game to the next level.  She will perform David Foster's "Grown Up Christmas List," and several Christmas songs written by Gabe Petrocelli, "I Still Believe in Christmas," and "The Little Christmas Tree."
Matthew Keating began his cello studies as a young student at the Claremont Community School of Music.  He graduated from California State University, Northridge with a Bachelor of Music Degree and then attended a music conservatory in Germany.  Matthew also appears in performance as a conductor, specializing in youth orchestra education and development.  Currently, he serves as Executive Director of the Claremont Community School of Music where he continues to pursue his passion for music education.  Matthew will perform "The Elegie" by French composer Gabriel Faure and "Christmas Morning" by Gabe Petrocelli.
Join us for a great night of holiday music while having a hot cup of FREE STARBUCKS COFFEE, and put some green stuff in the Hungry Tuba.  We will also have many of our DVD's available for a small donation.  The concert will be broadcast on local Ontario cable Channel 3.  Check your cable listings for the date and time.  For additional information regarding these performances or the rest of Show Band's upcoming concert season, please check our website at www.showband.net and follow the Show Band on Facebook, Twitter, YouTube, and Instagram.
The community can help support the Ontario Chaffey Community Show Band by becoming a patron of The Friends of the Ontario Chaffey Community Show Band Concert Society for $25.  Become a Bronze Baton donor for $50-$100; Steel Baton $150-$200; Silver Baton $250; Gold Baton $500; Platinum Baton $1,000 and Diamond Baton $2,500.  Individuals or businesses may also become a Show Sponsor for $2,500.  For more information on sponsoring a show, contact director Dr. Gabe Petrocelli at [email protected].  All Donor names will be included on every program and our website for the entire concert season.  Baton and Show Sponsors will also receive complementary DVDs of each performance.  The Friends of the Ontario Chaffey Community Show Band is a registered charity under Internal Revenue Code Section 501 C (3); EIN # 46-1422958.  Checks may be made out to: Friends of the OCCSB, P/O Box 1512, Ontario, CA 91762.
—–
The Ontario Chaffey Community Show Band was founded in 1985 by R. Jack Mercer and is now under the direction of Dr. Gabe Petrocelli with assistant directors David Schaafsma and Pat Arnold.  Band members represent at least two dozen communities throughout Southern California.  Adult and student musicians are invited to participate.  No auditions!  Rehearsals are held on Monday evenings from 7 to 9:00 p.m. at the Chaffey High School Jack Mercer Band Room.  The band performs monthly concerts in the historic Gardiner W. Spring Auditorium and at other venues throughout the community.  All performances are free to the public.