Wednesday, January 27, 2021
CALL FOR ARTISTS: Out from Under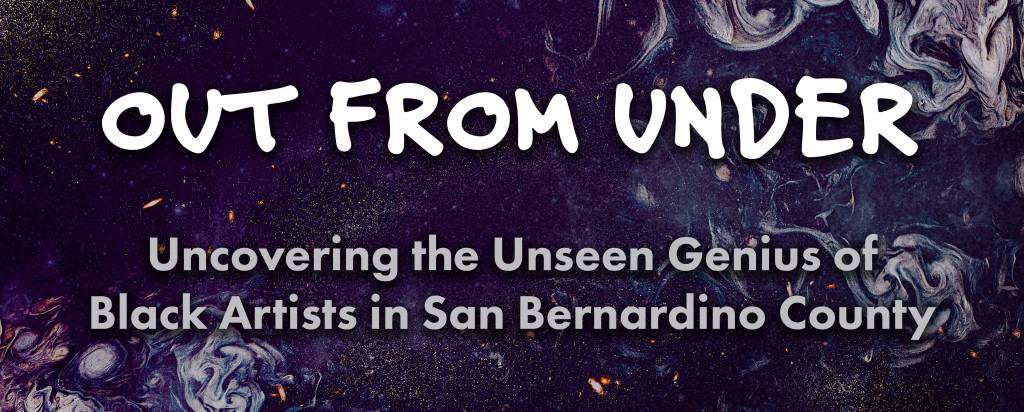 OUT FROM UNDER – Uncovering the Unseen Genius of Black Artists in San Bernardino County
– An exhibition and a Dialogue
Barstow Community College, in association with Arts Connection – The Arts Council of San Bernardino County, invites submissions for an online exhibition and dialogue, Out From Under: Uncovering the Unseen Genius of Black Artists in San Bernardino County.
"Out From Under" challenges the inequity of cultural exclusion experienced by underestimated Black artists who live, work and/or attend school in San Bernardino County by creating a platform for the unseen and underrated to be recognized by, and represented in, the region's arts and culture ecosystem.
Historically, the rich diversity of work created by Black artists has been largely undervalued and ignored in the mainstream art canon. Despite producing important and influential narratives, only a precious few artists are elevated to the ranks of world-class. "Out From Under" hopes to help turn that tide.
Black artists throughout San Bernardino County are eligible. Artists in the High Desert region (Adelanto, Apple Valley, Barstow, Hesperia, Victorville) are especially encouraged to submit their best visual art works in all mediums. However, the work must be accessible via online or digital formats, including still images and video, and/or a combination of these formats.
Submissions will be judged and awarded in three categories:
Best in Show
The Next – Emerging artists – Less than five years experience.
The Now – Artists whose work thematically addresses social justice.
Winners and finalists will be featured in a virtual art gallery during a month-long online exhibition.
Winners will be provided with regional publicity and promotion, $100 awards, and will be interviewed as part of an online panel discussion presented by Barstow Community College during Black History Month.
Show dates:
February 7-28, 2021
Panel Discussion: February 27, 2021 at noon (online)
– Note: you must pre-register for this online event separately.
Deadline to Submit for the online exhibition is February 1, 2021, end of day.
All visual media will be accepted, including painting, drawing, photography, textiles, sculpture, graphic arts, video, mixed media, and other visually represented forms.
No more than 3 submissions per artist.
Maximum file size per submission is 10 MB. Please upload images of a minimum of 150 DPI. Video submissions will be accepted as well.
Please label all files with the last name of the artist submitting, followed by an underscore and then the title of the work. For example, kane_paint1.  Or kane_video1
Works will NOT be sold directly through the exhibition site, but if you would like to list works for sale, interested buyers will be able to contact you directly if you elect to do so.
Website exhibition launch will be February 6, 2021 and will be online for at least one month.
Disclaimer: Not all submissions will be accepted into the show. Barstow Community College and Arts Connection reserve the right to choose which eligible entries will be accepted to be exhibited. All decisions are final. Works depicting graphic violence or that otherwise causes harm or discriminates against another religion, race, culture, or gender will not be tolerated.
To submit work for Out from Under, click here: Out from Under Submission Form