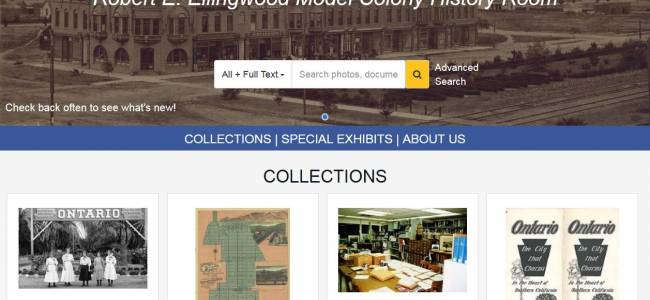 Local History Treasures Online
Did you know that the Ontario City Library has been collecting local history material for more than eight decades? That's a long time! The library was established by community members in 1885 and became part of the newly incorporated City of Ontario in 1894. In 1907, an official library building opened on the southwest corner of Euclid Avenue and D Street, funded by Andrew Carnegie. In 1960, the library moved across the street to its present location at Lemon and D streets. The Model Colony History Room was established in 1970 to collect, house, and preserve all things local history. Today, the room provides public access five days a week to a treasure trove of photographs, books, maps, newspaper clippings, pamphlets, oral histories, small artifacts, documents, and other items. Now, the Model Colony History Room is embarking on a new project to make many local treasures available online! Currently, staff is working on creating online exhibits of its photograph and building survey collections. Also shared are fruit crate labels and scrapbooks. You can browse the collections here: http://ontariocitylibrary-montage.auto-graphics.com/ and a link is on the library's website here: https://www.ontarioca.gov/government-departments-community-life-culture-library/programs-services-annual-events
Also, the Model Colony History Room is a participant in two grant-funded projects to digitize specific collections. California Revealed is a California State Library initiative that is helping to preserve and make accessible many rare items of Californiana. The history room has digitized motion picture film, audio recordings, oral histories, and its collection of glass-plate negatives which were previously unavailable for public use due to obsolete playback equipment and the fragility of the material. You can find the Model Colony History Room's collection on the Internet Archive here: https://archive.org/details/ontariocitylibrary or on Calisphere here: https://calisphere.org/institution/156/collections/.
The history room is also participating in a grant-funded project called CLIRwater, a collection of California water documents. In 2017, the library embarked on this 3-year project in collaboration with The Claremont Colleges Library, A.K. Smiley Public Library, Upland Public Library, CSU Northridge Oviatt Library, CSU San Bernardino Water Resources Institute, and the National Archives and Records Administration at Riverside to digitize materials related to the history of water, specifically in Southern California, and its impact on development. The project is funded by the Andrew W. Mellon Foundation, administered through the Council on Library and Information Resources (CLIR), and the project is being managed by The Claremont Colleges Library. The collection contains documents, maps, correspondence, photographs, and other materials from all seven contributing institutions. The database is available to all with Internet access and is a work in progress. You can browse the collections here: http://ccdl.libraries.claremont.edu/cdm/landingpage/collection/cwd
Please check back routinely for new additions to all of these projects.