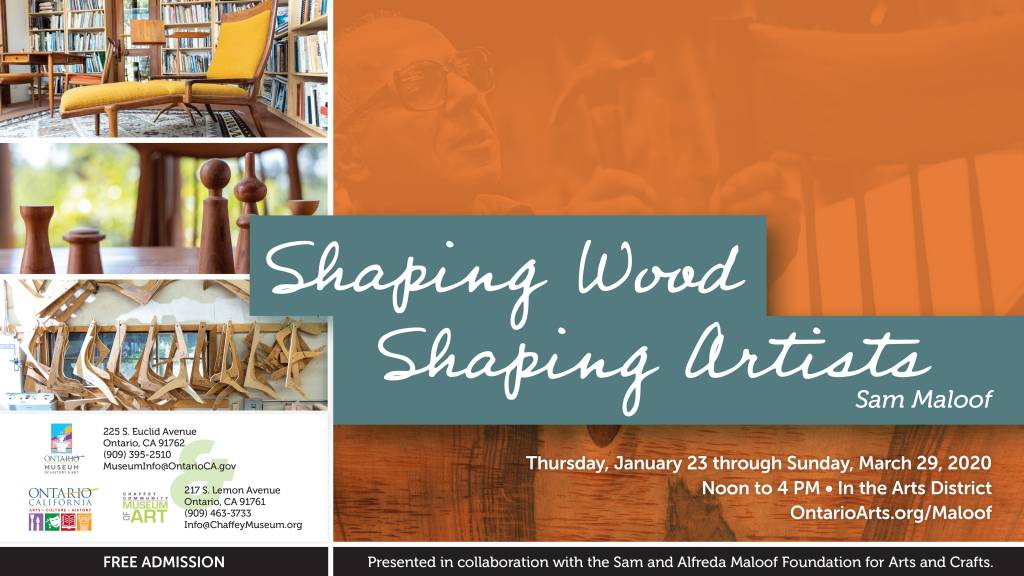 Jointly curated and exhibited at Chaffey Community Museum of Art and Ontario Museum of History & Art
On exhibit beginning January 23 through March 29, 2020
Thursday – Sunday • Noon to 4 PM
217 S. Lemon Avenue
Community Reception
 Sunday, January 26, 2020 • 1 PM to 4 PM
Sam Maloof (January 24, 1916 – May 21, 2009) was an Inland Empire native son who became nationally-renowned as a furniture designer and woodworker. Born in Chino, Sam to Lebanese immigrants, he was the first craftsman to receive a MacArthur fellowship. His work is in the collections of major American museums, including the Metropolitan Museum of Art, the Los Angeles County Museum of Art, the Philadelphia Museum of Art, and the Smithsonian American Art Museum, as well as the White House.
Sam's Lebanese background, fused with the local Mexican-American culture, produced a master craftsman and artist with a distinctive personality. His work is warm, open, lively, and unadorned. It simultaneously emphasizes the beauty of the wood itself without compromising the functionality of the furniture.
Despite his national prominence, Sam was a thoroughly grounded artist and an active member of the local art community. He freely traded his own work and collected the work of local artists – many of them emerging artists, early in their careers. Sometimes his purchase or encouragement came at a crucial time, encouraging young artists to pursue their artistic careers.
This exhibit tells a new, more personal story about Sam. It shows his multiple dimensions as an artist – the sources of his passion and influences, the creative environment he worked in, how he worked, and his artistic growth – and how his multicultural background drove him to inspire, encourage, and influence other artists. The exhibit includes some of those artists, who have continued his traditions in their own creative ways.
---
Shaping Wood
On exhibit at Ontario Museum of History & Art
Sam Maloof


Sam Maloof's legacy, as a craftsmen, mentor, and champion for the arts and crafts, has touched many people.  Sam's personality was larger than life, but he was also approachable and supportive of other artists.  Sam's work was meant to be experienced and enjoyed.  This exhibit brings together Sam's sources of inspiration, his artistic process, and the impact he had on the surrounding area, as both a collector and a world renown craftsman.
---
Shaping Artists
On exhibit at Chaffey Community Museum of Art
Nationally, Sam Maloof is known as a furniture designer and master woodworker. But within the Inland Empire artist community, he is fondly and even gratefully remembered as a source of encouragement and mentoring. Artists Larry White – Sam's first employee – and Mike Johnson – now the owner of Sam Maloof Woodworking, Inc —  exemplify the results of Sam's mentoring.
After leaving Sam's employ to become a college art professor, Larry expanded his range of media to embrace ceramic sculpture, drawing, painting, and mixed media, and continues the Maloof mentoring tradition with his apprentice, Lauren Verdugo.
Mike continues to produce fine furniture using Sam's style, patterns and techniques, and has expanded Sam Maloof Woodworker, Inc. to include his wife Joanne and son Stephen.
Artists exhibiting at CCMA: Larry White, Mike Johnson and Lauren Verdugo

Larry White


Larry White's art career has spanned nearly 50 years. Although primarily known as a craftsman working with Sam Maloof for 29 years, he's also exhibited work in other media, including ceramic sculpture, drawing, painting and mixed media. He has taught at two California Universities.  He has exhibited his work nationally and is found in both private and public collections.

Artist Statement
"I like to think of art as a place of convergence, where the intuitive thoughtfulness, and creative energy of the maker merges with the personal history and psyche of the observer. I believe this interaction is catalytic in the evolution of culture, mind and spirit."
Mike Johnson


Mike Johnson developed an interest in woodworking at a young age and first heard about Sam Maloof from an uncle who saved local newspaper articles for him about Sam's woodworking activities. Mike earned a B.A. degree in Industrial Arts from Cal State Long Beach in 1980. That same year, Sam invited Mike to his workshop, resulting in an offer of employment. Mike has been there ever since. After Sam's death in 2009, Mike continued Sam's legacy and now runs the Sam Maloof Woodworker studio, creating fine custom furniture in Sam's tradition at the workshop in Alta Loma. 

Lauren Verdugo
Inspired by the work of Sam Maloof and other midcentury studio furniture makers, and after working 7 years at the Sam and Alfreda Maloof Foundation for Arts and Crafts, Lauren has started her own career in the arts. She currently studies under master craftsman, Larry White, as his assistant in his studio in Pioneertown, CA.Their projects include furniture, mixed media furniture, and large scale sculpture. Lauren is also a student at San Diego State University in their Applied Design program. Lauren says, "I create not because I want to, rather, I create because I need to."  Exhibiting in CCMA's Spotlight Gallery from February 20 to March 22, 2020.