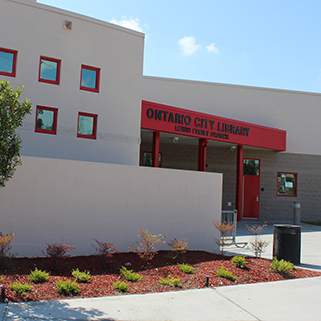 Lewis Family Branch Library
3850 East Riverside Drive, Ontario, CA, United States | (909) 395-2014
Open: Monday - Saturday | Hours: The Lewis Family Branch is closed until further notice. Our bookdrop remains open during this time. We are available to take your call by phone to answer your questions and provide assistance with accessing our online services during the following modified hours: Hours Monday - Saturday: 9am - 6pm Sunday: Closed Telephone 909-395-2004 Follow the Ontario Community Life & Culture social media channels for updates and additional content.
Lewis Family Branch, a joint-use facility located on the campus of Colony High School, opened in January 2003. The library is dedicated to Ralph and Goldy Lewis, founders of Lewis Group of Companies, in honor of their support and commitment to education. Lewis Family Branch offers books, magazines, newspapers, movies and more with educational and recreational programs and services for all ages.
Highlights:
Lightspeed, a community makerspace, provides adults and high school students free access to dedicated equipment and software to create digital media projects, 3D prints, laser cutting and etching, CNC carving, sewing crafts, robotics, electronics, and virtual reality with help from knowledgeable staff. Locations at both Ovitt Family and Lewis Family libraries. Call (909) 395-2256 for more information.
Asian Pacific American Heritage Month, each May we recognize the contributions of Asian Americans and Pacific Islander Americans and promote awareness through a celebratory program of dance and a special craft reflecting these cultures.
Día de los Muertos/Day of the Dead Celebration, a time to learn about the beauty of Mexican family traditions. Enjoy creating art and experiencing rich Mexican history.
Gingerbread House Workshop, an annual family holiday gingerbread program. The library provides materials and simple instructions for families to build their very own structure with decorative candies, icing and graham crackers. Lots of smiles and family fun!
Mission
We strengthen our community by creating and supporting lifelong reading, learning, and enjoyment.
Vision
The Ontario City Library is your place to connect to each other and the world—where you are inspired by our materials, innovative programs and services, and are delighted by our commitment to the community.
Visit Website