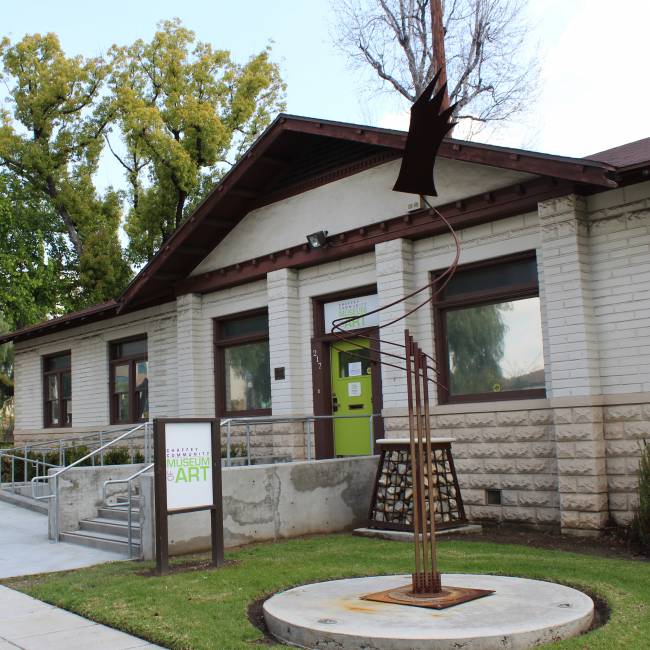 Chaffey Community Museum of Art
217 S. Lemon Ave, Ontario, CA 91761-1623 | (909) 463-3733
To cooperate with the nationwide response to COVID-19, the Chaffey Community Museum of Art will be closed to the public until May 31 or until State wide order is lifted. We will provide periodic updates our website, www.chaffeymuseum.org
Since 1941, the Chaffey Community Museum of Art has been sharing the gift of visual art with residents of the inland communities of Southern California. First founded as an art association, CCMA has since grown into an important regional museum that provides public access to fine art and supports the local artistic community.
The mission of the Chaffey Community Museum of Art is multi-dimensional. Like all museums, CCMA's Permanent Collection is held in the public trust, and selections are always on display in the Museum's Line Gallery so they can be enjoyed by museum visitors. Additional facets of CCMA's mission are to:
maintain, conserve, display and restore the Museum's art collection;
provide a venue for local artists to exhibit;
stimulate and foster interest in art with educational activities for members and the public;
enhance the Permanent Collection by expanding its holdings to include regional artists and a wide variety of media.
preserve the history and traditions of the Museum.
Free Admission: Thursday through Sunday: noon — 4:00 pm
For the full details and list of upcoming exhibitions, visit the website below:
Visit Website