Ontario Police Museum: Guns and Hoses Car Show
Nov 18 | 7:00am-3:00pm | Ontario Police Museum
2500 S Archibald Ave, Ontario, CA 91761, United States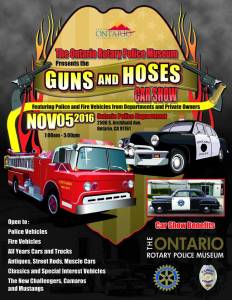 The Annual Guns and Hoses Car Show Fundraiser benefiting the Ontario Police Museum will be held in the parking lot of the Ontario Police Department where the Ontario Police Museum if located.
The car show will display a variety of vintage and current public safety vehicles as well as classic cars of all description. There will be music, food and trophies!
For vendor information, contact Bob Kallas at (909) 243-4712.
For vehicle registration for the show, contact Don Driftmier at (951) 206-5731.
Buy Tickets