Line Gallery- Tribute: Milford Zornes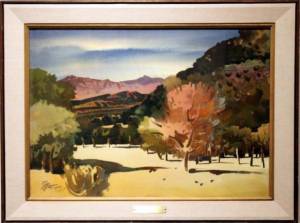 Milford Zornes and CCMA enjoyed a 75-year relationship that began in 1942 when he first exhibited his artwork at the Second Invitational Purchase Prize Exhibit of Contemporary American Art. The first painting to be hung in the first permanent home of CCMA in 1981 was a watercolor by Milford Zornes.
In 2005, Zornes was honored as CCMA's first Artist of the Year for his artistic excellence, support of the artistic community, and support of philanthropic organizations. We pay tribute to Milford Zornes, recognizing that he and his work have influenced multitudes of artists in the Chaffey Communities and beyond.
Related Events